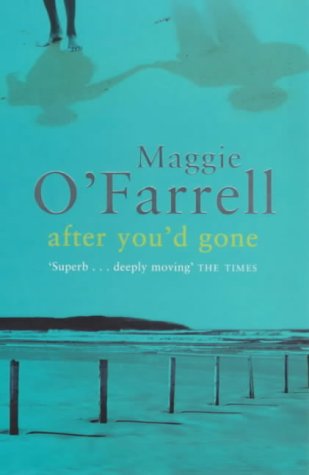 When I learned that Maggie O'Farrell would be speaking at my local library I immediately resolved to reread her debut novel, 'After You'd Gone'*.
What's it about?
Alice Raikes randomly boards a train from London to Edinburgh, thinking she will visit her family. Almost as soon as she arrives, she sees something that stuns her into leaving again. Back in London, she steps in front of a car and slips into a coma. What did she see? Was the collision an accident or a suicide attempt? If deliberate, why would she want to take her own life? And what do her family, clustering around her bedside, have to hide? While they wait anxiously, Alice thinks about her past, including a significant lover.
What's it like?
I thought the premise was a very interesting one and the action in the prologue succeeded in whetting my appetite, despite irritating me slightly. (Who gets up one day and randomly jumps on a train from London to Edinburgh? Never mind the time taken; consider the expense! And who on earth could bear to immediately turn around and commit themselves to several more hours on a freezing cold, over-crowded train? And what did Alice see? What did she SEE?!)
The rest of the book is organised into three parts. Part one begins with Alice as a young child watching her Father's feet, then after barely a page switches to Alice as an adult, realising that she loves someone called John. After a few short paragraphs in this time frame, Alice is six. Then she is with John again. Six, John, six, John, then she is setting fire to the curtains. For the final paragraph of the chapter, O'Farrell suddenly moves from third to first person narration and Alice notes that the fire was never mentioned, never discussed.
Part one begins with Alice as a young child watching her Father's feet…then she is setting fire to the curtains.
I have a sneaking suspicion that when I last "read" this book, I may have actually given up shortly after this point, feeling a little confused by O'Farrell's rather jumbled narrative style. This time I kept reading and quickly adapted to the time and perspective shifts. Once acclimatised, I enjoyed reading about the lives of Alice, her sisters, her mother, Ann, and her grandmother, Elspeth.
Although Alice's life is the ostensible focus of the novel, O'Farrell also writes experiences from Ann and Elspeth's perspectives, including significant moments from their own childhoods and romantic lives. I felt O'Farrell handled the multiple perspectives well as I was never impatient to be done with one and return to another. I also liked the way later episodes informed preceding ones; the reader has to learn about John's father before they can understand Alice's incandescent rage in response to Ann's questioning about John's background (which happened earlier in the novel but later in the novel's timescale).
It isn't only the chapters which seem structurally unusual; the whole novel has an unusual shape. Part one introduces Alice, her family and her coma. Chronologically, the book begins very near its end. Part two, the longest section of the book, reveals the nature of the characters by capturing scenes from their lives and actually answers the key questions raised by the book's blurb. Section three, therefore, is like an extended, melancholic coda, although there is some plot development. Instead of reading to seek answers, the reader slips into an almost voyeuristic mode, enduring Alice's grief with her. If this were a novel that relied completely upon sensation (What Did Alice See? What DID she SEE?) then part three would be the subject of much criticism. Fortunately, there is so much more to O'Farrell's writing than simple sensation.
O'Farrell writes about ordinary people in ordinary situations in a way that is realistic yet engaging to read. A mother feeds her child at night. A teenager walks away from a party. A man feels jealous. Drama happens, of course, but it is anchored in the everyday, in the day-to-day lives of convincing characters. Those characters are not always likeable – Ann is often cold, her husband Ben oblivious – but they are believable, as is their interaction. Even minor characters are sketched in sufficient detail to create an authentic backdrop. Hotel maid Molly, faced with what she considers to be bizarre behaviour, consults her ledger to see how long her odd guest is staying.
If you have been the subject of a 'recently curtailed love affair' you may wish to steer clear.
Even the ending is just right; there is a sense of closure but there is much a reader doesn't know. (O'Farrell said during the interview that she has an idea what happens to her characters after her novels end, but she does not know for definite.) In 'After You'd Gone', as in life, there are no quick fixes, no magical happy-ever-afters and no detailed explanation of previously hidden events. If this sounds negative, it really isn't. Provided some of the narrative arcs are at least partially resolved, I don't need every i to be dotted or t to be crossed. I also quite like more realistic endings.
Final thoughts
I really enjoyed reading 'After You'd Gone' and have already purchased O'Farrell's second book, 'My Lover's Lover'. Once I had adapted to the narrative leap-frogging I appreciated the author's writing style and found this a quietly compelling read. I will be interested to see whether the narrative style was selected due to Alice's coma or if this is simply O'Farrell's preferred approach.
Alice's distress, powerfully depicted in the final part of the novel, is well-handled; the reader is prepared to empathise with Alice after all that has gone before, so what could seem maudlin in another, less likeable, character achieves pathos instead. If you have been the subject of a 'recently curtailed love affair' you may wish to steer clear, otherwise this is a pleasure to read.
* O'Farrell was speaking in order to promote her most recent novel, 'Instructions for a heatwave', so the logical approach would have been to read that, but I like to read an author's books in order of publication, where possible, and I was aware that there were a few gaps between 'After You'd Gone' and, well, 'Instructions for a heatwave'. About four books worth of gaps, in fact, so I thought that I would start again from the beginning.
'After You'd Gone'
Maggie O'Farrell
2000, Review, paperback