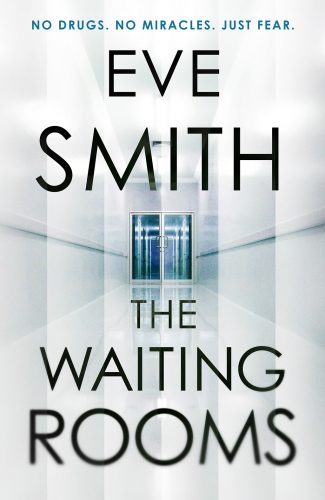 With so many potentially brilliant books I want to read, sometimes choosing the next one feels like a challenge.
So, as this year's Crimefest approaches, I've set myself an actual challenge: to read some of the books by the panellists which are already gracing my shelves (some of which I doubtless picked up at the last Crimefest!)
I started with this gem that hooked me with its blurb, and Oh My Word, I feel like it might not be long before this dystopian thriller has to be re-shelved to non-fiction…or some hybrid shelf, 'faction'.
What's it about?
Decades of spiralling drug resistance have unleashed a global antibiotic crisis. Ordinary infections are untreatable, and a scratch from a pet can kill. A sacrifice is required to keep the majority safe: no one over seventy is allowed new antibiotics. The elderly are sent to hospitals nicknamed 'The Waiting Rooms' … hospitals where no one ever gets well.
Twenty years after the crisis takes hold, Kate begins a search for her birth mother, armed only with her name and her age. As Kate unearths disturbing facts about her mother's past, she puts her family in danger and risks losing everything. Because Kate is not the only secret that her mother is hiding. Someone else is looking for her, too.
Sweeping from an all-too-real modern Britain to a pre-crisis South Africa, The Waiting Rooms is epic in scope, richly populated with unforgettable characters, and a tense, haunting vision of a future that is only a few mutations away.
What's it like?
Compelling. Convincing. Chilling.
I loved Smith's story-telling. Her world building is perfect; I found myself almost nodding my head as I read, thinking, yes, that's exactly how it would be. This is a world exactly like ours, except for the intense medicalisation of everyday life – and the explicit abandonment of the elderly to protect the broader population.
Not only does Smith build a completely convincing – and deeply scary – world, but she tells a genuinely exciting story peopled with characters whose relationships are perfectly pitched. While searching for her birth mother, Kate must also parent her own daughter, whose sometimes slightly cavalier attitude towards life worries sensible Kate, who nurses patients in one of the titular 'Waiting Rooms', providing an insight into their workings.
Alongside Kate's first person narration, we also learn about life for Lily, a 69 year old lady in a retirement community, and Mary, a 25 year old botanist cataloguing plant species in South Africa before the Crisis. Each narrative voice is engaging with a gripping storyline and I enjoyed reading all three voices / stories, especially as the links between these three women began to appear.
Final thoughts
I thoroughly enjoyed reading this assured debut novel, although it is scary to realise how very plausible the broad outlines of this scenario are. What are governments around the world doing to prevent the world of this novel becoming a reality? Judging by the WHO website, the answer is Not Enough.
This story was conceived pre-Covid and published early on in the pandemic. It feels very prescient, especially in the way the government messaging is portrayed. (Graham is absolutely the scariest character in the book!)
There are some books I think everybody should read: this is one of them. Whether you want to read 'The Waiting Rooms' for the thrilling story, the superb characterisation or the fascinating insight into a world where a graze could kill you, I highly recommend it.
Now I'm hoping to pick up Smith's second novel, 'Off Target' at Crimefest, in which gene editing has become a routine but problematic part of procreation.
'The Waiting Rooms',
Eve Smith,
2020, Orenda Books, paperback