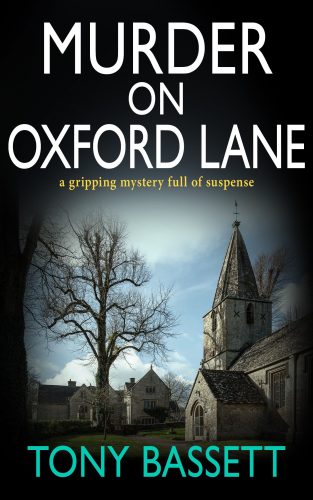 A missing man. A careless wife. An ailing business.
Is Harry Bowers dead or deliberately missing? Heart of England police are determined to find out.
What's it about?
I'm pinching the blurb for this one:
The peace of a Midlands village is upset when local businessman Harry Bowers doesn't return from choir practice. More concerned than the man's own wife, it would seem, investigating officer Detective Sergeant Sunita Roy becomes convinced he has met a sinister end.
There is no trace of the man – just a litany of evidence of an ailing marriage and a nose-diving business venture.
In charge of her first serious case, DS Roy will struggle to win the respect of her colleagues – in particular, her Brummie boss, DCI Gavin Roscoe. All that whilst fighting off the attentions of an increasingly desperate suitor.
Who had it in for the chorister? And is Roy tough enough to break down the defences and prejudices of Middle England? 
What's it like?
Well structured, with an engrossing opening, ('It had been no surprise to Harry Bowers to learn that someone was sleeping with his wife…Tonight…the two men were due to meet again.') and a convincing conclusion that neatly tidies up the plot. This is a solid police procedural where characters are gradually exonerated or fall under increasing suspicion and the reader is treated to the deliberations of the police, who balance up the evidence with appropriate care.
This is one of those stories that, when you reach the end, you find yourself thinking, 'Of course!' because the breadcrumbs were all there, but your attention was elsewhere. The culprit is perfectly fitting and there's a real sense of satisfaction in the resolution.
Meanwhile there's a side story to get you interested in the lives and loves of the Heart of England police force: Sunita Roy has family issues, but, more sinisterly, she has an increasingly crazed stalker who doesn't seem to understand the concept 'no' – or even 'hell no'. Although I found this less interesting than the main storyline, I would be happy to read about DS Roy and her colleagues investigating another case, as I did enjoy their interactions.
Final thoughts
I found some of the phrasing and dialogue a little awkward, and sometimes wondered why certain information was being shared (though I always realised why soon afterwards!) but I really enjoyed reading this and trying to solve the mystery. It's refreshing to read a story featuring a detective who is happily married rather than a miserable, jaded, joyless near-retiree. Similarly, it's lovely to read a story where, despite the many red herrings effectively scattered through the story, the ending really felt like a firm fit (as opposed to the author having left everything open and then played eenie meenie miny mo to pick a villain).
This isn't former journalist Tony Bassett's first book, but it is the first in a planned series featuring these officers and I'd definitely be happy to read another one.
Want to know more? Then follow the blog tour (see below) or visit Tony Bassett's website here.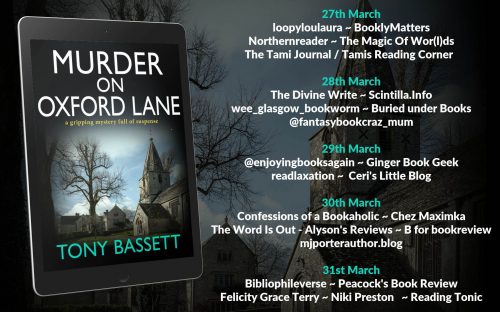 'Murder on Oxford Lane',
Tony Bassett,
2022, The Book Folks, paperback
Many thank to the author, publisher and Rachel's Random Resources for providing me with a copy of this book in exchange for an honest review and a spot on the blog tour.