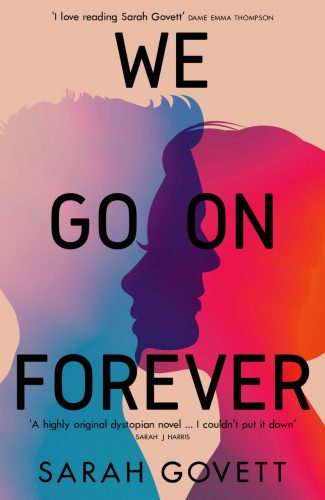 'It's a book about the lies we tell ourselves and others,' says Sarah Govett.
She adds: 'and the evil that can be perpetrated if we, for whatever reason, convince ourselves that another group of people is somehow lesser or 'other'.
This theme at the very core of 'We go on Forever' is what I loved about this book. Arthur has believed. It has suited him. But now, his eyes are about to be opened…
I'll share more of the author's thoughts about this dystopian novel tomorrow as part of a blog tour for this intriguing book, but for now, here's the premise:
***
Arthur is dying. He must transition within the next four weeks or face permanent memory loss.
Alba is studying, preparing to impress the Mentors in an all-important interview. If she's picked as the next Apprentice she will be reunited with her best friend and cross the Wilderness for the first time.
They meet and everything comes together.
And everything falls apart.
***
What's it about?
Alba's innocence. Arthur's wilful ignorance. And the startling chasm between the two created by a society led astray by fear and power. I think often of Dr Ian Malcolm's cutting comment to the gleeful owner of Jurassic Park: 'your scientists were so preoccupied with whether or not they could, that they didn't stop to think if they should.' This storyline raises exactly this issue. When times are troubled – and here, they are desperate – will the rich always prey upon the poor? It seems the answer is yes – unless they can catch a glimpse of themselves in the very humans they seek to dehumanise…
What's it like?
Simple and highly effective. Alba's innocence is not stupidity and we feel her pain as she begins to uncover the truth. Arthur is perhaps a more complex character, with more complicated relationships with family and friends. As his background unfolds, the reader can't help but feel some sympathy for him too, making the whole story more terrifying because it is clear that when things fall apart, they will never be whole again.
Final thoughts
I really enjoyed this intriguing dystopian vision of the future. The technology might be futuristic, but the attitudes and man's inhumanity to man are sadly familiar, rendering the overall storyline far too plausible. In this story, survival comes at a terrible cost…
I'm now looking forward to reading Govett's earlier dystopian trilogy – 'The Territory'.
Look out tomorrow for more of the authors thoughts in her guest post on this blog about writing 'We go on Forever'.
'We go on Forever',
Sarah Govett,
Marotte Books, 2021, paperback
Many thanks to Anne Cater and Marotte Books for providing me with a free copy of this book in exchange for writing an honest review.
Want to know more? Follow the tour: