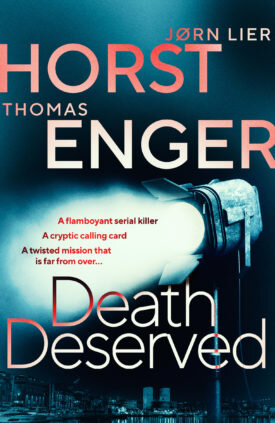 The detective and the celebrity blogger. Together, can they catch a serial killer?
'Death Deserved', the first collaboration between two well established authors of Nordic Noir, Jorn Lier Horst and Thomas Enger, is a brilliantly engaging tale of a police man hunt that seeks to apprehend a flamboyant serial killer who's determined to manipulate the media and has a dramatic finale planned.
What's it about?
When a former long-distance runner fails to show up to the launch of her own autobiography, celebrity blogger Emma Ramm decides to investigate. The front door is unlocked, there are signs of a struggle – and a bib with a #1 is pinned to the TV.
Alexander Blix, a police officer who has spent the last twenty years haunted by a hostage situation that went badly wrong, is allocated to lead the missing persons inquiry. Soon, the runner's belongings start appearing incongruously at other crime scenes, forcing Blix to concede that there's a bigger picture he's not seeing.
Between them, can Ramm and Blix pool their resources to stop a killer who's so effectively conducting the media's attention?
What's it like?
Fabulous. From the opening scene, which establishes Blix as impulsive and generous, we can't help but like the main characters and feel for them. Blix's guilt and Ramm's anxiety are established swiftly, though the reasons for these heavy feelings come clear gradually. I was genuinely interested in reading about these characters – and finding out more about the killer's motivations!
Equally, the plotting is compelling. I loved the way the crime scenes linked together and the developing sense of the serial killer as puppet master or conductor, orchestrating his crimes with forethought and controlling their presentation. I was reminded of celebrity chefs who may serve particular dishes with carefully curated music or specially adapted lighting. Increasingly, Blix is forced to operate under time pressure and without sufficient rest, as the killer's schedule intensifies, forcing the reader to wonder whether there will be a repeat of the Teisen Tragedy.
The relationship between Blix and Ramm is an interesting one and I like that the possibility of romance is excluded – this is a more father / daughter relationship. As Ramm moves (apparently seamlessly!) from celebrity blogger to crime reporter, Blix is under pressure from his boss to withhold any new case developments from the press. Ramm, of course, perceives equal pressure from her boss to be the first to publish new information!
Final thoughts
This is a thoroughly modern and enjoyable police procedural with sympathetic characters and a cracking pace. I liked the uncertainty around who the killer actually was, though I did spend a third of the book wishing the otherwise very perceptive Blix would realise that a certain other character's current choices would make them a perfect potential target for the killer!
Enger's background in journalism and Horst's background in investigative policing has created the perfect team for writing highly engaging crime fiction and I am already looking forward to finding out what Blix and Ramm are tasked with investigating next.
'Death Deserved',
Jorn Lier Horst and Thomas Enger,
translated by Anne Bruce,
2020, Orenda Books, paperback ARC
Many thanks to Anne Cater and Orenda Books for providing me with a copy of this book in exchange for an honest review and a spot on the blog tour.
Want to know more? Follow the tour: