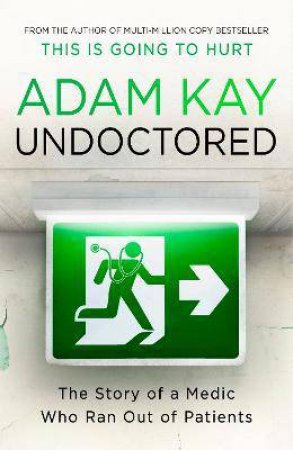 'Medicine was harder to leave than O2 or Virgin Active gyms.'
Adam Kay is back with his second memoir, reflecting on his experiences not just as a student and doctor within the NHS but with his own mental and physical health.
What's it about?
Kay's adult debut, 'This is going to hurt', was sad and funny. Built primarily from at least semi-humorous anecdotes collected during his career as a gynaecologist, the final painful chapter was quite a harsh break from the preceding material. (Much like his live stand up show, it's all funny, albeit dark humour, until the painful event that terminated his medical career.) 'Undoctored' clearly shares genetic material with its predecessor, but is sharper, ruder, darker.
'This is Going to Hurt' opens with Kay's resignation from the medical profession and then explores the reasons medical students might sign up to such a challenging career (basically the chance to be a superhero). The first anecdote involves inept creation of email addresses and it takes until page 16 before readers are treated to the first truly gruesome anecdote, which involves a lamp post, a young man and a, ahem, de-gloving incident.
'Undoctored', by contrast, opens with:
'You know what it's like when you're cutting up a dead body. No, of course you don't. It's a perverse and horrific thing that should only ever be experienced by coroners and gangland criminals. Unless of course you're one of the 9,000 eighteen-year-olds who sign up to medical school in the UK each year. For them, it's just what you do each Friday morning'.
This is Kay unleashed. The disapproval of the way medical staff are trained, the lack of support they endure, the suicide rate of doctors, this is now the dominant thread, explicated by way of anecdotes.
As a whole, this book is also just plain ruder. By page 2 Kay is reflecting on the properties of different kinds of biscuits when competitively masturbated upon. God only knows what insights Kay might see fit to share with the general public if he writes a third book for adults in this vein!
What's it like?
Angrier, cringier, darker. Not angry in a ranty way, but Kay has plenty to say about the dubious approach to doctor welfare he witnessed and experienced.
Gruesome and gross. Expect to be treated to a detailed account of the egress of a kidney stone and a bout of D and V, among other passages that will surely leave you wincing with sympathy and horror.
Really rather sad. Yes, Kay maintains a dark humour throughout, but his honesty makes him seem incredibly vulnerable, and it has been suggested that this memoir could benefit from certain trigger warnings.
Final thoughts
This wasn't quite what I expected after the (in hindsight!) rather more light 'This is Going to Hurt' and 'The Nightshift Before Christmas'.  In places it is really quite difficult to read because it is so extremely personal. Reading about the medical mishaps of complete strangers is somewhat desensitising, but reading about Kay's struggles felt genuinely saddening. Yes, the tone is consistently humorous – 'J thoughtfully distracted me by initiating a huge argument' – but ultimately this is much more personal and brutal than Kay's previous books.
Still very funny – but very dark.
'Undoctored',
Adam Kay,
2023, Trapeze, paperback