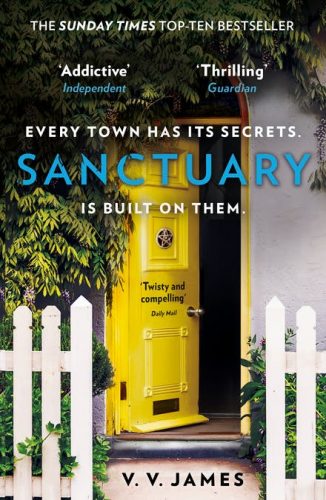 The best fiction is almost fact.
The persecution in James' novel is sadly familiar: a girl and a woman who others see as different from them becomes feared, reviled and hunted. Increasingly subjected to hate crimes and condemned without evidence, a mother and daughter struggle to clear their reputations in a town which is no longer prepared to accept their difference. The twist? This is a genuine witch hunt. Salem all over again – or is it?
What's it about?
When Harper's ex-boyfriend, Dan, dies at a house party that turns into a funeral pyre, it doesn't take long before she's accused of killing him with witchcraft.
Connecticut cop Maggie figures this is an accident and she'll have the case closed in days, but she's wrong. As a small town starts to give up its secrets, the inhabitants quickly lose faith in Sarah, their resident witch – and Harper's mother. Can Maggie really solve this case? What will happen if she can't? After all, Sanctuary used to burn their witches…
What's it like?
Emma Kavanagh described this story as 'Big Little Lies with witches', which I think sums up James' novel perfectly. Expect to see apparently loving friendships unravel, community secrets exposed and a town descend into chaos. Genuinely compelling, cleverly written to explore our habit of 'othering' people perceived as different and with a super ending, this is a fabulous book that I fully expect to see televised.
The amount of world building is just right; essentially, this world is our world, but some people are born with magical abilities and have to be appropriately managed by the state. James adds only the details we need to understand how this slightly different reality works, allowing us to become fully absorbed in the storytelling.
Final thoughts
I really enjoyed this story and read it over a few evenings, wondering what exactly had happened to Dan and what would happen to Harper and Sarah.
I particularly enjoyed the moral conundrums posed by this story. Sarah has the best of intentions, but she does bend the rules – with good intentions, but we all know where those lead…
Recommended.
'Sanctuary',
V. V. James,
2020, Gollancz, paperback