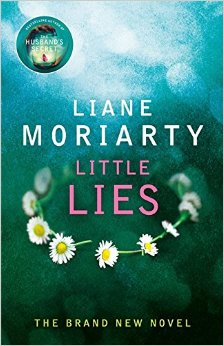 'Little Lies' is Liane Moriarty's sixth book, and it's her best yet.
I've previously read and thoroughly enjoyed two of her earlier books, 'The Husband's Secret' and 'What Alice Forgot', though I had minor reservations about each, mostly around the amount of time and space given to the development of particular characters in each story, both of which focused on multiple female protagonists and their dilemnas. In this book, Moriarty has honed her craft perfectly so each storyline is fully fleshed out and readers can really care about each central character.
What's it about?
Jane is desperate to escape her past and has moved town every six months ever since her young son, Ziggy, was born. Now he's starting primary school in the idyllic coastal town of Pirriwee and Jane feels she might finally be ready to put down some roots. Unfortunately, at the start of the school term, Jane's son is involved in an incident which has ongoing repercussions and creates fractures in an already divided school community.
While Jane's new friends Madeline and Celeste are, respectively, eagerly involved and completely disinterested in the bickering, Jane is distraught as rumours and lies multiply until it all ends in murder…
What's it like?
A fascinating insight into the politics of kindergarten parenting. A convincing depiction of the way gossip becomes gospel. A cautionary tale about domestic violence.
From the opening pages, I was hooked. Moriarty uses the end of each chapter to report snippets of police interviews with the various parents and staff involved in the school trivia night. Although this introduces the reader to multiple characters very quickly, each voice is distinctive and it's easy to flip back and forth between the interview segments to double check who said what if need be. Besides, most of the joy of these extracts is in the gossipy bickering and backstabbing happening between the characters, and the intriguing nuggets of new information each contains.
Each of the three central women has a well-developed story that focuses on their relationships with their partners (ex and current) and their children. While Jane is the obvious sympathetic figure initially – a single mother whose five-year-old son is being made a pariah at school – it soon becomes clear that Madeleine and Celeste have their own problems. Perhaps because this book is longer than her previous two, Moriarty is able to give each story the space it needs to fully develop and engage our sympathies.
Final thoughts
I thoroughly enjoyed reading this and found the ending powerful. As happens in the best fiction, Moriarty carefully explores serious issues – in this case, domestic violence in particular – in a way that never feels obvious or moralising, but instead leaves the reader with a memorable perspective on the topic.
This is an engaging read peopled with utterly convincing characters and served up with generous helpings of humour along the way. I'm now looking forward to reading Moriarty's seventh book, 'Truly Madly Guilty', which is published next month.
Recommended.
'Little Lies',
Liane Moriarty,
Penguin, 2014, paperback
N.B. Although my copy is titled 'Little Lies', this book is currently published as 'Big Little Lies'.