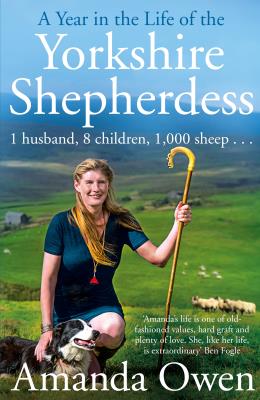 1 husband, 8 children, 1,000 sheep…
It's testament to Amanda Owen's busy lifestyle that the strap line for her second book – released in hardback at the end of last year and in paperback today – is already out of date; she now has nine children. (How? I mean, seriously. I find three small people perfectly sufficient to deprive me of my sleep and my sanity, and I don't have to tend a flock of sheep alongside them.)
Today I am pleased to be the first stop on Amanda's blog tour to promote her new book, 'A Year in the Life of the Yorkshire Shepherdess', which brings fans up-to-date with recent developments in her life and introduced newcomers to the joys and rigours of life as a modern day shepherd.
What's it about?
There are twelve chapters, one for each month of the year. In each chapter, Amanda describes the typical activities she's involved in that month while encompassing a range of anecdotes concerning her family, her friends and her farm from recent years.
Readers will learn about the basic feeding regimes for the farm's collection of animals, which shifts over the months, the pattern of the animals' movements, the intricacies of mating and lambing season, and the vagaries of the various farming machinery and equipment. At no point did I feel like I was being instructed or lectured; all the information was presented smoothly and with what was (for me) just the right amount of detail.
More than that, we get a heartening insight into the Owen family's life: Miles' delight in his hens, Reuben's love of fixing tractors, and Raven's slumber parties in the guesthouse, to name a few. Through it all Amanda's love of Ravenseat and her vocation shines brightly, clearly inspiring her brood to adopt a similarly positive attitude.
What's it like?
Informative in a pleasant, mildly entertaining way. I certainly know more about various aspects of sheep management than I ever knew there was to know! Amanda expresses herself in a relaxed style which means readers can almost feel like there's just them and the author, having a little chat.
Anecdotes are seamlessly embedded into a chatty, warm narrative voice that is equally happy to poke fun at herself, her children and her husband, Clive. Amanda is able to convey each member of her family's distinct personalities with well-selected reminisces and the minimum of authorial interjection.
'Edith stroked the calf's neck gently and I held his head firmly to the floor, while Sidney and Violet scrutinised the vet's handiwork, disappointed that the whole procedure had been quite tame and involved more in the way of knitting than disembowelment.'
Typical children!
Amanda makes frequent use of terminology which is specific to farming and to her Yorkshire setting. When recording dialogue, she also consistently uses phonetic spellings (e.g. 'nivver').
'Her eyes were sunken, her coat was starey and she was dothering (trembling).'
Initially I found the integration of dialect words and phonetic spelling a little irritating, but it certainly strengthens the sense of setting and helps to bring the characters vividly to life. By the end of the book I was quite enjoying listening to Clive commend Reuben: 'I 'ave no idea 'ow you've done it, but well done'.
Speaking of having no idea…Amanda's birth story for Clemmie is amazing, and I am quite jealous…although I don't fancy being two hours drive from the nearest hospital!
Final thoughts
Until reading this book I am sure I had never heard of Amanda Owen, but it seems she is quite the celebrity, despite a lifestyle that prioritises hard work, Ravenseat (her farm) and her family. Aside from her television appearances on 'The Dales' and 'Countrywide' many readers of her previous book – top ten bestselling 'The Yorkshire Shepherdess' – have opted to seek Amanda out in her native setting and enjoy a cream tea at Ravenseat.
From reading this book I have learned that you can pressure wash a horse (gently!), that 'yows' will come looking for their lambs if you take them away, and that pedigree sheep endure a beautifying regime before they face the market.
Perhaps more significantly, I have admired Amanda's positive attitude; her joy and confidence, her vigour, are constantly in evidence. She is practical, forthright and pragmatic, shedding tears over the loss of a particular animal companion, but able to make the necessary tough decisions.
This is a lovely, warm-hearted account of a family who are truly enjoying The Good Life. Entertaining, informative and well-organised, this may even inspire a few people to grab their wellies and get outside a bit more!
Want to know more? There's a useful article here or you can find Amanda on Twitter @AmandaOwen8
Many thanks to the author and the publishers for providing me with an advance copy of this book in exchange for an honest review.