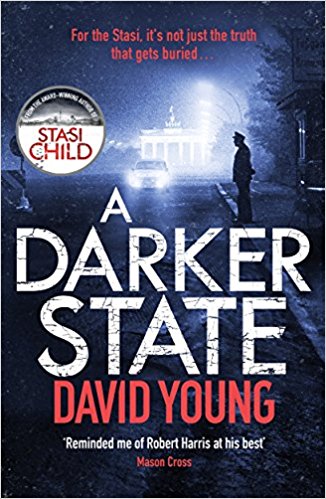 How do you investigate a crime the Stasi don't want you to solve?
This is a problem Oberleutnant Karin Muller is familiar with. David Young's first thrilling crime novel, 'Stasi Child', saw Karin investigate the mysterious death of a teenage girl who appeared to be escaping from West to East Berlin, and 'Stasi Wolf', our heroine's second outing, saw her attempting to investigate the abduction of baby twins in the new, model socialist village of Halle-Neustadt. In both these chilling tales, the People's Police officer finds herself manipulated and threatened by the Stasi, her romantic and professional life subject to the machinations of her socialist bosses.
Muller's third outing, 'A Darker State', follows a similar trajectory but – as the title promises – it is significantly darker. Grab a blanket and a hot cup of tea because you're about to feel chilled to the bone.
What's it about?
The body of a teenage boy is found in a lake. The obvious questions include who is he, who killed him and why, but this is the DDR in 1976 and any answers the investigating detectives uncover will depend on what the Ministry for State Security – the omnipresent and seemingly omnipotent Stasi –Â  are willing for them to learn…
Just before being assigned this case, Karin Muller finds herself abruptly promoted two steps up the police hierarchy in order to better defend the People's Police's case jurisdiction. Or, possibly, according to her old Stasi 'pal', Jager, in order to better allow the Stasi to go about its Machiavellian business, unhampered by someone more experienced.
Just as Karin catches glimpses of a deeper conspiracy at work, the son of one of her team goes missing. Finding the truth is now essential, but is it possible?
What's it like?
Chilling. Gripping. Fascinating.
From the disturbing prologue, featuring an old man who knows how to stay safe, to the dark coda in the heart of a young family, Young absorbs readers in a world where anyone could betray you: your friend, your colleague, even your lover.
It's just as well then that Karin is once again partnered with Werner Tilsner, one step below her on the promotion ladder and at least one hand more in league with the devil. Some light-hearted sparring between the police colleagues is a welcome counterpoint to this bleak investigation.
As always, Young's beautifully embedded research enables him to craft a fascinating glimpse into what was a rather secretive society. Karin Muller is the perfect conduit for our gaze, complicit as she is in maintaining a regime history has encouraged us to think badly of. Despite frequently coming into conflict with the Stasi in the course of pursuing her investigations, she is a true socialist at heart (though as Young pointed out recently, this is perhaps not surprising as Karin doubtless experiences a more pleasant life within the DDR than many of her less fortunate comrades). I wonder how much darker this state will have to get before newly promoted Major Karin Muller begins to have more serious reservations.
Final thoughts
Young has created a world in which youth is particularly vulnerable; as in 'Stasi Child' the deepest chill lies not in the dark politicking of the corrupt adults, but in the behaviour of the most vulnerable youths. This, I feel, is always where Young's books take your breath away and force your heart to skip a beat. In a world so corrupt, where is there space for hope? And yet, this isn't a depressing book; it's enthralling and immersive and will keep you reading until the shocking conclusion, at which point you will want to return to book one and start all over again…
You could absolutely read this as a standalone, but my advice is: don't. Start with the fabulous 'Stasi Child', then the disturbing 'Stasi Wolf'. Only then can you fully appreciate just how much darker this state truly is.
'A Darker State',
David Young,
2018, Bonnier Zaffre, paperback
Want to know more? Follow the blog tour: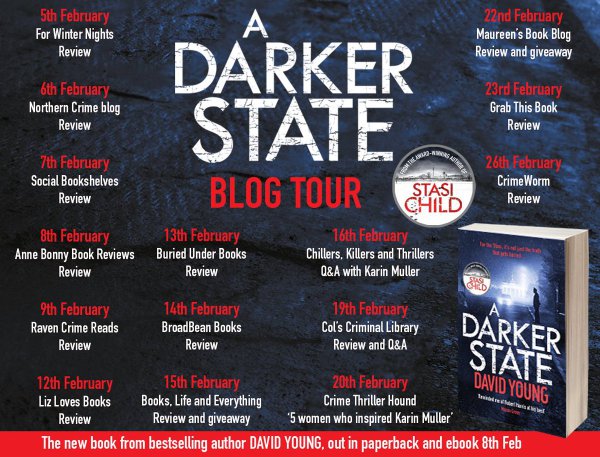 Thanks to the publishers for providing me with a free copy of the book in exchange for an honest review / a place on the blog tour.