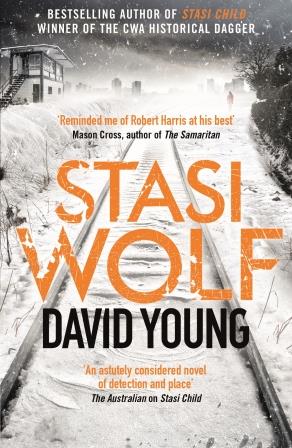 Sometimes a book surprises you.
Last year that book was David Young's debut novel, 'Stasi Child' – winner of the CWA Historical Dagger award. Despite my vague belief that I don't really enjoy reading historical fiction, despite my occasional professed boredom with another story focusing on life in post-WW2 Germany, I LOVED 'Stasi Child'. It's chilling, atmospheric and perfectly plotted. I was genuinely excited to realise that this was the first book in a planned series, featuring Murder Squad Detective Karin Muller, though I did wonder what else poor Karin could be forced to endure.
So I was delighted to learn that the next book in the series, 'Stasi Wolf', was about to be released. Could it live up to the excellence of its older sibling?
What's it about?
After being sidelined from the Berlin Murder Squad as a punishment for refusing to join the Stasi, detective Karin Muller is spending her days dealing with minor political infringements more suited to a uniformed officer:
'She couldn't face many more days trying to get idiots like Lauterberg, with their faux western hippy attitudes, to confess to petty crimes against the state. It was more exhausting than a murder inquiry.'
Then Karin is offered a job investigating the kidnapping of baby twins in Halle-Neustadt. The catch? Halle-Neustadt is a jewel in East Germany's communist crown, and Muller is not allowed to conduct an open investigation: there will be no house to house enquiries, no suggestion that anything untoward has even occurred.
Karin needs to find a way to circumvent these restrictions, before more children vanish…
What's it like?
Chilling, intriguing, a fascinating glimpse into life in the DDR.
The opening chapter is superb: it captures inhumane wartime behaviour and is utterly disturbing due to Young's decision to use second person pronouns (in this chapter only). We experience this character's trauma and are prepared for the fear which underpins all the main characters' relationship with the state.
I still find it interesting that Young has created a protagonist, Karin Muller, who is sympathetic to a regime which history has looked at critically. She could initially seem to be an unsympathetic character as we first meet her (in this story) questioning a teenage boy about noise and an anti socialist joke he made. Seriously? Questioning a young man about a anti-socialist joke? Surely we're on his side as he retells the joke (which I did find amusing) and refuses to be intimated by Muller. This is state control taking an intrusive and heavy handed approach; it is a repressive regime in full flow and our protagonist is a willing part of the system.
However, Muller's heart is clearly not in this interrogation and it soon becomes evident that she has reservations about the regime but sees protecting it as being fundamentally "for the greater good" (a phrase which, by the by, I can never think of now without hearing it chanted by the good people of Sandford in Simon Pegg's highly entertaining film 'Hot Fuzz').
Most of the characters are primarily concerned with protecting themselves and a disturbing atmosphere of suspicion, paranoia and mistrust is evoked throughout.
However.
What's not to like?
The story feels unevenly paced due to a time frame spanning nearly a year and a central crime with a lot of dead ends. This means that sometimes Muller's personal life seems to be the only real focus of the plot and I often struggle to enjoy police stories where the main protagonist's personal life is as central to the plot as their investigation.
Personally, I'm just more interested in the crime / criminals and feel stories often become too far-fetched when their main protagonist is perpetually heavily involved in whatever terrible crime is occurring. In 'Stasi Child' I really enjoyed the way Muller's background was used, but in 'Stasi Wolf' it all felt a little too signposted and convenient.
Muller develops a new relationship and her personal life becomes intertwined with the case she's investigating in multiple ways. This struck me as very convenient and ultimately unconvincing.
I was also a little disappointed by the final solution, partly because I can't help but feel that in a society this rife with spies, someone would have reported certain oddities early on (I can't be more specific without introducing spoilers), and partly because I'm personally more happy reading about sad endings!! I'm not really a horrible person, I just generally find them more convincing than overall happy ones, and I like my fiction to keep me firmly enmeshed in the fantasy world right til the very end.
Final thoughts
However, none of these personal disappointments are deal-breakers. I really enjoyed reading about Muller's attempts to circumvent the Stasi's restrictions and was fascinated to learn about the links to real-life cases in the DDR.
I also really liked the first-person chapters interspersed throughout the narrative. This protagonist was both creepy and vulnerable and inadvertently shed light on what was happening to the kidnapped babies. I thought this was a great feature in the story and the final instalment is both chilling and deeply sad.
This works well as a standalone book, though if you like the sound of this I would definitely recommend reading 'Stasi Child' first as knowledge of certain events in the first book will add a certain chill to the events in 'Stasi Wolf'. Plus it's just a really, really excellent book!
Once again, after everything Muller has experienced in this story, I shall be fascinated to see what challenges Young sends her way next, and how she will meet them from her new position.
'Stasi Wolf',
David Young,
2017, Bonnier Zaffre, paperback ARC
Many thanks to the author and the publishers for providing me with an advance copy of this book in exchange for participating in the cover reveal.