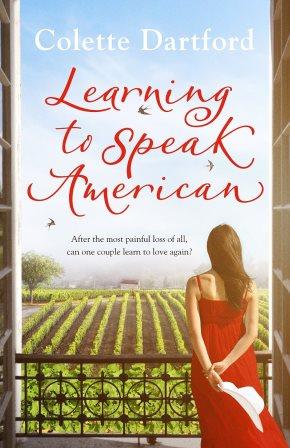 It's any parent's greatest fear: losing their child.
Unfortunately, such a devastating loss can also lead to couples losing each other, and that's certainly the case with Lola and Duncan Drummond, the married couple at the center of Colette Dartford's debut novel 'Learning to Speak American'.
What's it about?
Since they lost their young daughter, Lola and Duncan have struggled to extract joy from their lives or their relationship. While Duncan immerses himself in work – and a growing vice his wife knows nothing about – Lola is lost in her grief, everything triggering memories of Clarissa, the daughter whose life and death her husband refuses to discuss. Instead of talking to Lola about their loss, Duncan takes her on a trip to San Francisco to celebrate their twentieth wedding anniversary, hoping that the change of scenery will enable her to move on.
To their surprise, Lola's interest is sparked by a derelict house. Desperate to make amends without having to talk about the past, Duncan buys the property and Lola begins to renovate it, with help from local dabbler Cain McCann. As she works on the house, Lola's life begins to brighten, but Duncan's refusal to face his problems means his life begins to fall apart. And then he meets Saskia.
Can Lola and Duncan learn to love again?
What's it like?
Emotional. Surprisingly light reading considering the dark subject matter (I think that must be the effect of all that San Franciscan sunshine!). Thoughtfully broad-minded.
Duncan and Lola are both struggling to deal with their grief, but her character is initially much simpler to empathise with. It's easy to see why Lola adapts so quickly to Napa Valley: she desperately needs warmth, meaningful conversation and, to use an Americanism, 'closure'. Of course, Duncan needs these things, too, but refuses to recognise the fact and, indeed, seems unable to truly understand other people's motives and emotional states. (The moment when he confesses to his secretary that his wife chose her gift is deeply revealing of his inability to empathise.) Of course, this isn't surprising given that he doesn't understand his own.
As Dartford gently paints in their past history and their childhoods, you can begin to understand more completely how they ended up where they are now, but it isn't until Lola and Duncan's final conversation that readers can truly appreciate the horror of his situation, and it is this insight which gives the ending much of its power. In many respects, the ending is redemptive, and I can see why Nicola Cornick (author of 'House of Shadows') described it as a 'beautiful read'.
It's set in the Bush/Blair era to facilitate certain plotlines and attitudes, but I still found it surprising that Duncan was so cavalier with money, spending thousands on his vice with no real consideration of the implications; his deepening and ruinous commitment to the American house is more understandable as is his dated (but explained) attitude towards 'protecting' his wife from their financial reality, but it does all make me want to shake some sense into him!
Final thoughts
I had mixed feelings about this book as I felt it was well-written and utterly convincing in many key respects (including certain attitudes towards buying sex), but I am a very traditional romantic and would have preferred a different ending…and possibly a different middle…and for Duncan Drummond to be an entirely different kind of man! This is no reflection on the book itself, though; it's just that I have very old-fashioned and deeply felt attitudes towards marriage and related social mores.
Overall, it's a touching insight into the far-reaching effects of both childhood and significant loss.
'Learning to Speak American',
Colette Dartford,
2016, twenty7, paperback
Many thanks to the author and the publishers for providing me with a free copy of this book in exchange for an honest review.