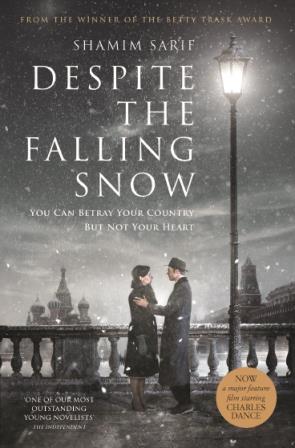 One of the best things about running this blog is discovering brilliant authors I didn't know existed.
Shamim Sharif is an award winning novelist, screenwriter and film director. She has written, adapted and directed her first two novels, 'The World Unseen' and 'I Can't Think Straight', which have won international awards. 'Despite the Falling Snow', her third book, has also been adapted and is currently showing at cinemas.
What's it about?
Katya is spying for the Americans in Moscow during the Cold War when she meets privileged government employee Alexander Ivanov at a party. Both are drawn to each other and soon Katya has her instructions: make him fall in love with you so you can steal his secrets. Determined, principled and a free-thinker, Katya struggles with her deception, but when she tries to free them both from Russia's grip, it ends badly and Alexander finds himself alone in America with his memories.
Forty years later, two women combine to bring those memories to the fore. Aspiring novelist, Estelle, wants to know all about the chasismatic Katya, while Alexander's neice, Lauren, is determined to find out the truth about what happened to her aunt. Only by fully confronting his past will Alexander be able to move forwards.
What's it like?
Gently written, immersing you in the worlds of each significant character as their relationships with each other shift and emotions grow. Sarif embraces complexity; Alexander's thoughts about the wife who betrayed him cannot be straightforward, and his fledgling interest in Estelle is somewhat stifled by her marriage, which is a complex creature in itself.
This utterly convincing evocation of multilayered relationships is what gives the novel its power. We agonise with Katya over her betrayal of her husband and witness the challenges posed by Alexander's growing discontent with Communism. We empathise with Estelle's familial frustrations and understand how she has allowed her position as wife to a severely opinionated professor to limit her own opportunities. Lauren is a softer, simpler character, whose primary role is to facilitate meetings and help drive reconciliations, but she too develops in understanding as the novel progresses, and I was never impatient to get back to the 'real' storyline as she was so focused on her aunt, uncle and their history.
Chapters alternate between Boston in 1998 and Moscow in the late 1950s, effectively building the layers as we move towards understanding what, exactly, happened to Katya. Who betrayed who? And why? The answer is startling.
Final thoughts
I particularly enjoyed the literary references which pop up now and then and are so representative of Sarif's deft touch when it comes to illuminating character. I also enjoyed the way the chapters alternated between modern day Boston and Cold War era Moscow, gradually building our understanding of Katya, Alexander and their fate. It's impressive that Sarif can develop such an aura of mystery around Katya's fate when we know so much of her story from the outset. The big reveal is full of drama and perfectly in keeping with what has gone before.
In the end, this is everything it claims to be: a beautifully rendered tale of intrigue, romance and betrayal. More fundamentally, it is a study of character and people's ability to grow and develop.
This is a lovely story to curl up with, though for the full affect one might wish to be snuggled in a great coat, gazing out of snow-dappled windows at an icy landscape.
Recommended.
'Despite the Falling Snow',
Shamim Sarif,
John Blake Publishing Ltd, 2016, paperback
Many thanks to the publishers for providing me with a copy of this book in exchange for an honest review.