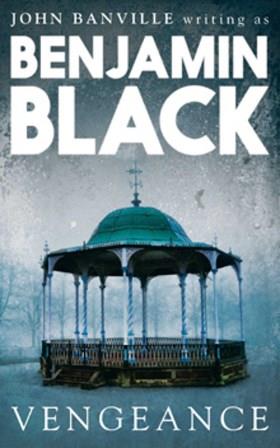 I'm always interested in the reasons writers choose to adopt pseudonyms.
Crime novelist Agatha Christie published six "romance" novels as Mary Westmacott; adult sci-fi legend Isaac Asimov wrote a series of YA novels as Paul French; and, of course, Harry Potter author J. K. Rowling was recently unmasked as Robert Galbraith, author of 'The Cuckoo's Calling'. (It's interesting that women are often still encouraged to publish under a male pseudonym or masculinised version of their name.)
Usually, if the writer is well-known and has a reputation to protect, pseudonyms seem to be adopted to mark out different territory. Writing as Benjamin Black, literary author John Banville has created a series of crime novels featuring Dr Quirke and DI Hackett. I read the sixth in the series, brusquely titled, 'Vengeance'.
What's it about?
Victor Delahaye and Jack Clancy are successful business partners until, one morning, Victor takes Jack's son Davy out sailing with him and commits suicide. What made him decide to die? Why did he want Davy to witness it? And what secrets are Victor and Jack's families hiding?
DI Hackett and pathologist Dr Quirke are intrigued by the circumstances and characters surrounding this event, the novel's opening act, but it isn't until a second death occurs that they begin to grasp some of the motivations driving the Delahaye and Clancy families.
What's it like?
Extremely atmospheric and brooding. Black is interested in characters' feelings, histories and motives rather than the minutiae of crime. This is evident from the opening sequence; although the police are briefly diverted to consider whether Victor's death could have been a murder, the reader is never allowed that possibility as they are privy to his strange final conversation with Davy, the shooting and his slow death.
Black is interested in characters' feelings, histories and motives rather than the minutiae of crime.
Once I acclimatised to the pace and style I quite enjoyed reading about this cast of awkward, largely unhappy characters. No one seems to really know anyone else, regardless of the number of years they may have been friends, lovers or husband and wife. Everyone is out to manipulate or to puzzle out other people's behaviour. It's a rather miserable world, convincingly evoked by Black.
This series is loosely positioned in the crime genre, and the fit is very loose indeed. Although Victor's death creates a wealth of questions, the answers are largely predictable and easy-to-anticipate. It isn't until the second death, half way through the novel, that there is a real crime to solve. Even then, DI Hackett isn't one to rush about following leads and the solution to the case is both fairly obvious and largely uninteresting. In fact, re-reading the opening chapter, it is clear that almost all the details one would ever need to solve both deaths are laid out in front of any attentive reader.
So this isn't really a who-dunnit or even a why-dunnit; instead, readers' interest arises from characterisation and setting.
So this isn't really a who-dunnit or even a why-dunnit; instead, readers' interest arises from the characterisation and setting. Black evokes 50's Ireland from a range of casual details: there are Presley records on the gramophone; Delahaye's family were unhappy that he went into business with a 'prod'; street names from Dublin and Cork are mentioned. Oh, and everybody drinks and smokes. All the time. Unless they're busy having sex with Quirke, who somehow seems to be irresistible to women. (Perhaps this is something to do with his professional proximity to death? Or his generally morose appearance?!) Even then, there'll be drinking and smoking before and after, to the extent that I have no idea how Quirke still has a job.
Fans of the series will doubtless enjoy the developments between regular characters – Quirke's daughter Phoebe is still learning to trust him and ex-lover Isabel makes an awkward appearance – while newcomers may find their antics strange but shouldn't suffer from a lack of background knowledge.
Final thoughts
Usually, authors don't publish books with their name and pseudonym splashed across the front cover, but Banville's decision makes some sense here as the former hints towards the latter's quite literary style. The plot is perhaps more realistic than many crime novels, focused around ordinary (if rather wealthy) people and their day-to-day concerns over money, power and competition. Instead of the macabre death scenes and arcane forensic work favoured by many writers in the genre, events are almost underplayed here (Davy barely reacts to Victor's suicide) and police deduction is minimal.
This reminded me a little of Midsomer Murders – an apparently close-knit community hides secrets – but without the agonised confessions of skulduggery at the end, or the overall feeling that people are generally good and justice has been / will be done. In 'Vengeance', people are largely sad, mad or both and justice seems almost irrelevant. And why did a suicidal man want a witness? The answer's in the title.
'Vengeance'
John Banville writing as Benjamin Black
2012, Mantle, Hardback