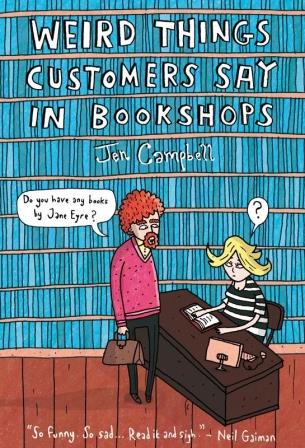 If you like to start your Christmas shopping early – very early – then take note: this is a great stocking filler.
I should know: I found it in mine this year (thanks Santa!) and had devoured it by the end of the day, almost before the Brussels sprouts were cold and certainly before all the mince pies were scoffed.
What's it about?
Exactly what it says on the cover. This slim book contains 114 pages of dialogues of varying lengths – between one line and one page, but usually about a paragraph long – between booksellers and their (often slightly loopy) customers.
What's it like?
Treats such as "Is this book edible?" and "Do you have anything by Jane Eyre?" might elicit only a mild desire to scratch your head and tilt it quizzically to one side, but there are some real chuckles to be had in this collection.
From customers who let their children damage books and then angle for a discount to customers who have no idea what book they want but know when their bookseller has got it wrong, this little book covers a range of conversations from the mildly dubious to the outright outrageous.
'Do you have this children's book I've heard about? It's supposed to be very good. It's called "Lionel Richie and the wardrobe."'
Just as eating all the tree chocolates in one sitting might make you feel a little sick, reading all the dialogues in one go risks you feeling mildly bored by a surfeit of mini-amusements. With that in mind, this would make a great book to keep in the car or the loo, to occupy those two minute slots it's so easy to spend on Facebook or Twitter.
Actually, in a roundabout way, readers have Twitter to thank for the existence of this book. After John Cleese asked about "pet peeves" on the mini-blogging site, Jen Campbell, an antiquarian bookshop employee, began adding examples of strange customer conversations to her own blog 'this is not the six word novel'. The blog still exists here although most of the "Weird things customers say…" posts have now been redacted, presumably in order to retrospectively create exclusive content for the book. You can still read a couple of the original posts which do contain material from the book and will give you a good idea of whether or not the book will suit you. (As a bonus, there are extra 'weird things…' added in the comments section of each post by fellow bookish bloggers.)
Do I want to read it…or to buy it as a late / very early Christmas gift?
If you're already a keen follower of the blog then this will suit you perfectly…except that you will already have read all the material. Hmm. Maybe you need 'More Weird Things Customers Say in Bookshops'? (Yes, the original was that popular.)
Then again, having giggled at these nuggets before isn't going to render them humourless, and most of us don't have a photographic memory, so it's definitely worth another read. The book's appeal is broader than the title might suggest; you don't need to be a fan of books or bookshops to enjoy this medley of human interaction. Indeed, bibliophiles may be mildly disappointed by the scarcity of truly literary references. Instead, anyone who has ever had any kind of customer service role will recognise the kinds of situations depicted.
All in all, this is an excellent example of what it is: a humorous time-wasting device designed to make you chuckle quietly on public transport and thereby attract some startled glances. The German translation of 'Weird Things Customers Say in Bookshops' ('Verkaufen Sie auch B├╝cher?') has been shortlisted for the Leserpreis Award for Best Humour Book of 2014, so it clearly has very wide appeal.
Personally, I loved the frequent use of ellipsis to indicate stunned speechlessness on the part of the booksellers and customers and know I will be dipping back into this book in future. In fact, I'm hoping Santa might remember this success next year. Hint, hint.
'Weird things customers say in bookshops'
Jen Campbell
2012, Constable, hardback