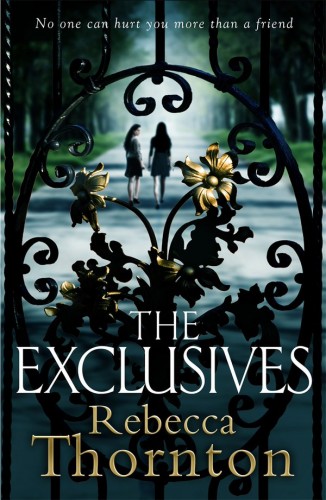 What's the worst thing you've ever done to another person?
If your actions resulted in catastrophe, could you bear to face the consequences? Journalist Rebecca Thornton's debut novel, 'The Exclusives', explores the consequences when best friends Josephine and Freya betray one another in their final year at boarding school.
What's it about?
Archaeologist Josephine Grey is traumatised by her past, which she's managed to avoid discussing for eighteen long years; now her ex-best friend Freya wants to talk about their shared history, including where it all went so disasterously wrong. Could this be an opportunity to heal some wounds? Can Josephine find the strength to move on? And what, exactly, does Freya want from her?
What's it like?
Dark. Emotional. Full of Josephine's fear, which initially feels out of all proportion to the situation. After all, these were school girls. What could they possibly have done to each other that was so terrible? As it turns out, quite a lot.
Chapters alternate between following Josephine's agonising over Freya's 2014 invitation and the events of 1996. It's a clever structure, especially as the 1996 chapters begin with a sketch of a crucial night before retreating to explore the build-up to it. Despite this, what will pull readers along isn't so much the what-did-she-do? or even the what-will-she-do? It's the insight into Josephine's anxieties and agonies that compels us to keep reading. Can she face the grown-up Freya? What will happen to her if she can't? What will happen to her if she does?
It's surprisingly fascinating to observe the teenage dramas the girls live through at boarding school. In particular, Sally and Verity's attempts to ingratiate themselves with Josephine and Freya are strikingly rendered. A touch on the arm here, a calculated recital of casual spite there; it's no wonder so many teenagers develop eating disorders and other mental health issues if they're all this manipulative. The teachers also make for an interesting case study. Their favourites are clear and the advantages this can confer are momentous.
Final thoughts
This is the kind of story you need to be prepared to sit down and absorb properly, then probably stick a comedy on the TV afterwards to perk you up again. Not that it's depressing – in fact, the ending is quite redemptive – but it is a dark story, full to the brim with guilt, anxiety and fear. (In fact, Thornton herself said that she needed plenty of breaks while writing and even developed insomnia.)
Intrigued? You can read my interview with the author here, but if you like emotional reads that will stay with you then this comes highly recommended.
'The Exclusives',
Rebecca Thornton,
2015, Twenty7, ARC
Many thanks to the publishers for providing me with a copy of this book in exchange for an honest review.