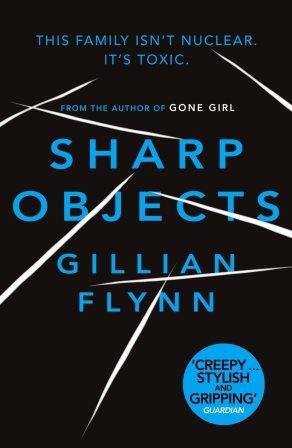 Blurbs can be tricky things: they often reveal too much, but sometimes they hint too little at key aspects of the tale within.
Having recently read and mostly enjoyed Gillian Flynn's thriller 'Gone Girl' I was keen to explore her back catalogue. 'Sharp Objects' is her debut novel – and it's even darker than the book which gathered her such acclaim. In fact, it should possibly be packaged with a warning.
What's it about?
Mediocre journalist Camille Preaker is sent by her boss to investigate the disappearance – and murder – of two young girls in her hometown. Despite her anxiety about returning to the place where her own sister died, she finds herself staying in her childhood mansion with her cold mother and precocious thirteen-year-old half-sister. Camille struggles to avoid embracing the dynamics of her child and teen-hood while also trying to uncover the town's secrets. Gradually, she realises that she must understand her own past if she is to survive her visit.
This much readers can gather from the blurb. However, I feel it is worth noting that Camille is a very damaged person; it gradually becomes clear that she has recently been admitted to a psychiatric hospital and has serious issues around alcohol, drugs, sex, self-harm and self-esteem. As a result, there are many scenes in the book that vulnerable readers may find particularly disturbing.
What's it like?
Compelling, disturbing, saddening. Flynn successfully creates curiosity in the reader from the beginning: why is Camille so reluctant to return home? Why would the killer remove a little girl's teeth? What happened to Camille's own sister? As events become progressively darker, I remained gripped by the off-beat first-person narration and pacy plot.
Why would the killer remove a little girl's teeth?
Camille's vulnerability is clear from the outset; she can't bear showers, appears to lead a very lonely life, and identifies so strongly with the dead girl that she longs to sneak into the morgue and 'put a fresh band Band-Aid on her knee'. She is a sympathetic but shocking character who becomes increasingly reckless as her insecurities are exploited by those around her. While most readers (hopefully) won't be able to identify with her specific experiences, I think she remains a character readers can have empathy for. Everyone has Family Issues.
And Camille's family really are terrible. Half-sister Amma, alternately loving and menacing, dominates the town's teen scene, which seems to consist almost entirely of underage sex, drinking, drug-taking and back-stabbing, (allowing Camille to fit right in…) while mother Adora reflects publicly on Camille's faults and tries to offer her own poisonous kind of love. The core of the book's sadness is in the way the apple never falls any great distance from its tree.
cleverly plotted, consistently compelling and thoroughly disturbing
As the investigation unfolds, Camille gradually gathers evidence that is pointing in one horrifying direction. But is it as simple as that? Flynn's final twists are perfect: obvious in retrospect but not in advance (at least, not to me); thoroughly supported by events and details throughout the book; and utterly chilling.
Final thoughts
There is so much violence and brutality in this book that I hesitate to write that I "enjoyed" it – such a sentiment seems almost inappropriate. It is cleverly plotted, consistently compelling and thoroughly disturbing. It should probably come with a warning for self-harmers, and maybe another one for concerned mothers of thirteen-year-old girls! I really liked that the whole story hung together, even after the final twists. I found myself rereading earlier sections and fully appreciating how they fit into the whole. I'll be keeping an eye out for Flynn's second novel, 'Dark Places', in the hope that it is equally intriguing.
'Sharp Objects'
Gillian Flynn
Phoenix, 2007, Paperback