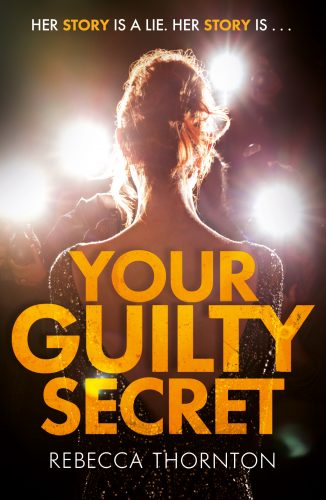 We all know that images can be crafted.
Public personas can be exactly that – a carefully crafted creation, shaped for and by an adoring public. Celebrity Lara King knows all about fame: how to get it, how to keep it and how to manipulate it. Then her daughter vanishes…and the persona begins to unravel.
What's it about?
The disappearance of six year old Ava King, daughter of showbiz favourite Lara King, creates a media frenzy. Everyone wants to know what happened to her, social media is fizzing with wild theories and chief investigator, Detective Mcgraw, thinks there are holes in Lara's story.
Everyone thinks they know Lara, her film-star boyfriend Matthew Raine and her beautiful daughter, Ava, but as events threaten to spiral out of Lara's control, her fans' obsession may just destroy her…
What's it like?
Simultaneously intense, clever and deeply irritating. I absolutely disliked Lara and her self-obsession was horrendous. Her world was an environment I had no interest in and, while I'm perfectly aware that it's not mandatory to like the characters in a story, I disliked them all and this did stop me from warming to the story.
I also found the constant hinting towards big reveals annoying and a bit clunky; the 'Announcement' is predictable and 'What Ava Saw' is so hyped that I'm not sure any solution could feel dramatic enough (though I definitely didn't predict this one!)
Finally, I was surprised by a couple of minor editing issues – a sentence repeated twice at the beginning and end of a paragraph on one page and a character named incorrectly on another page. Yes, I know I'm picky, but little mistakes lift a reader out of the story.
Overall, although I think the concept of 'Your Guilty Secret' is very clever, and the storyline does become engrossing, especially in the final third of the book, everything felt too Drama Drama! for me to really enjoy the book. Then again, I imagine that living in the environment these characters do, they absolutely would behave like that. I suspect the failure here is mine, not the authors: I'm simply not especially interested in this milieu. (You couldn't pay me enough to get me to read Heat magazine or watch Love Island.)
Final thoughts
I picked this up originally because I really enjoyed Rebecca Thornton's debut novel, 'The Exclusives', which explores the outcome of a toxic friendship formed in a girls' boarding school. This book has quite a different feel and, although I didn't find it as enjoyable as the first book, what I really enjoyed was the clever circularity of the ending and the feeling of culpability Thornton induces in the reader – you have been warned!
Despite not enjoying 'Your Guilty Secret' as much as 'The Exclusives', I am still excited about reading Thornton's third book, 'the fall out', which focuses on an accident that causes gossip at the school gates. This is an environment I'm much more familiar with and just reading the first chapter suggests this is absolutely my cup of tea. In fact, I might just put the kettle on and settle down with chapter two..
'Your Guilty Secret',
Rebecca Thornton,
2018, Zaffre, paperback