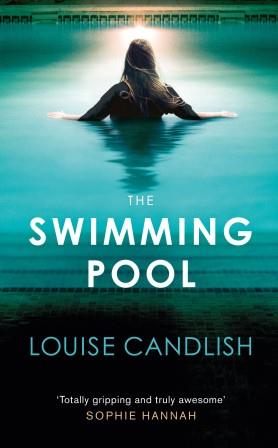 Who would you become if you could be a different you?
For one heady summer, sensible school teacher Natalie takes the plunge to find out. But could the reappearance of Nasty Nat spell disaster for her real life when the sunshine fades? Louise Candlish presents Natalie's growing desire for a more glamorous life in suspenseful prose that never lets you forget there's a reckoning coming…
What's it about?
Usually, summer is a very structured time for Ed, Natalie and their daughter, Molly. There's family time to be scheduled and tuition required for Molly, but this summer will be different. Ed's attention is diverted by establishing his new role as a tutor, while Natalie is completely absorbed by the opening of the local lido and the suddenly intense friendship proffered by charming socialite Lara Channing. As she increasingly neglects her established friends and defies her husband, Natalie spends her days by the poolside and her evenings sipping cocktails in Lara's bohemian house.
But as her intoxication rises, Natalie is aware of an earlier, teenaged, summer spent in an equally carefree manner, with shameful consequences. What might the consequences be this time? And what, exactly, does Lara want from her new friend?
Meanwhile, Molly is battling her extreme aquaphobia with success for the first time in her desire to make friends with the lovely Georgia Channing, Lara's daughter. But can Georgia be trusted to keep Molly safe while her parents drift apart?
What's it like?
Compulsively gripping. Dripping with tension. Puzzling.
Throughout the book, Candlish maintains one view point (until the final chapter) but alternates between three time frames: the morning after a significant party; the weeks and events preceding the party; and Natalie's original summer of sin. This is a very effective strategy which encourages us to view Natalie's developing friendship with Lara in light of her previous friendship with Mean Mel. (Though it seems Natalie has learned very little about herself from that episode!) Just when you think all three time lines have reached their dramatic peak, there's a final frightening development that keeps the tension high for the final few conversations bewtween the main characters.
The prologue is startling and will have readers puzzled throughout by the focus on him when the novel's focus is all on her. When the final pages are in place there's a disappointing reveal about that prologue, but it doesn't negate the powerful opening. If anything, it encouraged me to reread it and imagine it all slightly differently, from another perspective.
That, I think, is what I like best about Louise Candlish's writing: she waits until the last few pages to make you shift your focus and view the events of the last few hundred pages in a subtly but shockingly different way, and she does this without ever undermining what went before. Instead, you are left with multiple possiblities and interpretations. Did he…? Did she…? This is true psychological exploration and far more potent than a simple reveal where one or more characters tells you *precisely* what they were thinking (I'm thinking of Sophie Hannah's lengthy explanations of all the mental processes her key characters have undergone). The joy here is in the not knowing, the speculation, the possibilities.
Final thoughts
Candlish's focus on drowning may be off-putting to some readers, but the aquaphobia storyline is interesting, as is the fixation on Natalie's teenage guilt. Natalie's obsession with Lara is convincing, as is her recklessness, but her final comments on her friend's husband seemed rather like a lecture than a set of reflections. (Perhaps that is quite fitting for a usually rather staid teacher!) Ultimately, Natalie is her own worst enemy and I was pleased she could unpeel (most) of her misunderstandings at the end. There might be hope for her yet.
An atmospheric read with a quietly charged ending.
'The Swimming Pool',
Louise Candlish,
2016, Michael Joseph Books, hardback ARC
Many thanks to the publishers for providing me with a copy of this book in exchange for an honest review.