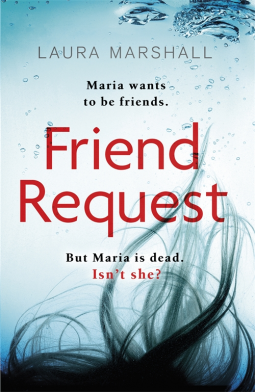 Schooldays. Whether you loved them or loathed them, their impact on your life can last well beyond the 13 years you actually have to attend.
In her debut novel, Laura Marshall explores the after effects of one schoolgirl's determination to get in with the in crowd – and whether we can ever really know another person.
What's it about?
When Louise receives a Friend Request from Maria Webster, she's shocked. Not only because she was never Maria's friend, but because Maria has been presumed dead for 25 years…
Is Maria still alive? Or is someone seeking vengeance on her behalf?
To her horror, it appears Louise may finally have to confront her demons, acknowledge what she did to Maria all those years ago, and find out exactly what did happen to the girl whose life she made into a misery.
What's it like?
Creepy. Tense. A little frustrating at times, but with a fantastic ending that perfectly explains everything.
Perhaps the intensity of Louise's paranoia is so strong because the story opens as she receives the Friend request on Facebook, but my feeling is that Louise's secret shame has always made her a deeply paranoid and anxious person.
She admits that she has no true friends and still seems hung up on her ex, who now has a new (younger) wife and a new baby. While her own self-hatred perfectly explains why she is so alone, there are some hints that her ex husband, the only other person who knows her terrible secret, has been fanning the flames of her self-immolation by suggesting that no one else could ever accept what she did.
Combine this suggestion with Louise's own paranoia and the escalating Facebook messages from Maria and Marshall has some excellent tension creating ingredients. What did she do?!?
What I really liked about this story, though, was the undercurrent that swept upwards at the end. Throughout the focus is mostly on the viciousness of teenage bullying and the potentially hideous regret perpetrators may endure, but at the end a different and equally chilling thread is developed perfectly and explains SO MUCH about Louise.
Louise didn't want to be friends with Maria…
Louise is a marmite character. As a teen she is torn between real friendships and chasing after the popular kids like a puppy who doesn't mind getting kicked – repeatedly. Women who lived that life at school – who felt like they existed only on the periphery of the popular crowd – are likely to emphasise with her. Anyone either privileged enough to be genuinely popular or genuinely disinterested in the school's social hierarchy may struggle to comprehend her choices.
As an adult, she's not much better. Yes, she feels tremendous guilt, yes, she obviously did something terrible, but my word does she fixate on this, to the extent that she lies to the police REPEATEDLY, even though she believes she and her son are in potentially life-threatening danger. (Are you truly mad, Louise?)
Probably this is just my own limited empathetic skills preventing me from being able to fully appreciate the fear engendered by this contact from a girl believed dead so long ago, but it took me about half way through the book to appreciate that her paranoia had some grounds, and it wasn't til the ending that I understood her and completely appreciated her fear. Regardless of my feelings about Louise, the tension was there throughout because Louise was CONSTANTLY on edge.
Final thoughts
This is a good debut thriller: full of tension and successfully exploring modern concerns around social networking and bullying while fully embedding them in the plot. Marshall alternates between the events of 1989 and 2016, gradually unveiling what Louise did (not particularly surprising, yet suitably horrifying), but also what really happened to Maria.
I look forward to reading Laura Marshall's next book, 'Three Little Lies'.
'Friend Request',
Laura Marshall,
2017, Sphere, paperback