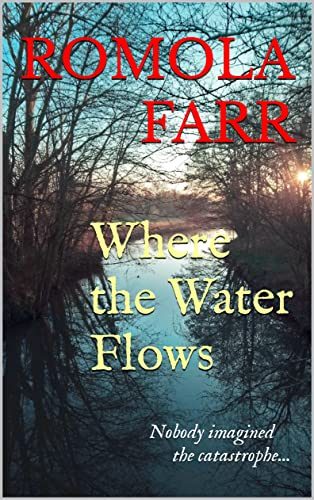 Sometimes it's nice to try reading something a little different.
'Where the Water Flows', a story about a dramatic event rather than a crime, certainly fits that description for me.
The Blurb:
It had been a long, hot summer followed by a very wet autumn. The River Hawk, lying to the north of a former little mill town, was in full flood but nobody imagined the catastrophe that lay ahead.
Not the elderly couple who created a beautiful memorial garden that would become a lake.
Not the opera singer who found a friend who would risk all to save her life.
Not the owner of Wax Polish who would battle to rescue her first love.
Not the new parents who would be overwhelmed and torn apart.
And certainly not two drama students whose lives would change forever.
What's it about?
'Where the Water Flows' follows the lives of several characters in the fictional town of Hawksmead, including Joel and Cadence, young drama students newly enrolled as USDA. The writer introduces the main characters, starts the story proper by introducing a significant event, then backtracks to follow the events of the preceding few weeks. There are multiple characters, all of whom are connected in some way, and all of whom have their own dramas to contend with.
What's it like?
This is like a soap opera, but filled with nice people! All the characters are pleasant but convincing, each with their own concerns, friendships and foibles, although young Joel's obsession with Cadence blooms rather abruptly and initially makes him seem a bit shallow creep ('Joel loved looking at the girls at the front who wore leggings, providing many a happy view, especially the beauty from the railway station').
There are hints of drama from the beginning – Joel is due to stay with Eleanor, his godmother, but she's caught a highly infectious and damaging variant of Covid, forcing him to stay (happily) with local gentleman Malcolm and his wife Audrey – but the first part of the book is all about establishing the setting and characters. A lot of the characters have very detailed back stories and I realised part way through that this book must be part of a series. It turns out this is actually book three following the characters in Hawksmead (though Cadence and Joel are new). It does work as a standalone, but it feels like a series story, if that makes sense. (Certain comments Cadence made left me anticipating a possible plot thread for book four!) Even before this book started, some of the characters had endured so much that it seemed mean for life to throw more trauma their way!
There's a slow build up where characters make new relationships and plan fun events, then around the half way point the drama arrives and just keeps battering the residents. Serious illness, car accidents, climbing accidents… There's barely a main character who hasn't already endured a battering when the final trauma hits the town, but being the sturdy folk they are, they're ready to help each other and work together in a crisis to save the day.
Final thoughts
This is simultaneously a modern and an old-fashioned story. Covid is an integral plot point, there are LGBT characters and discussion of the #MeToo movement, but there's also a sense of the importance of community life, including the church, and a surprising final scene that only makes sense to me if we accept that certain characters are deeply religious.
Read this if you enjoy depictions of community life in a small town where the kind natures of the townsfolk can turn disaster into healing.
'Where the Water Flows',
Romola Farr,
2023, Wildmoor Press, paperback
Many thanks to the author, publisher and Rachel's Random Resources for providing me with a copy of this book in exchange for an honest review and a spot on the blog tour.
Want to know more? Follow the tour: