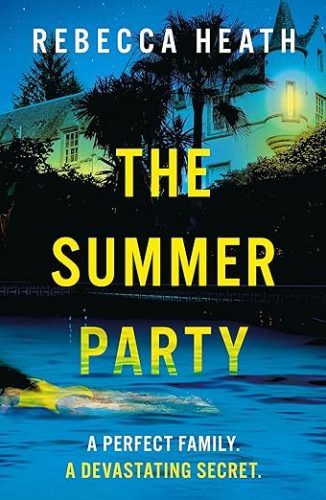 The strapline promises a perfect family with a devastating secret.
We know these tropes: we know that this family will turn out to be anything but perfect; we know there will be multiple secrets that emphasise just how broken their family unit truly is; and we know that Lucy will find herself in danger, likely from whoever she least suspects; but we hope that the story telling will fuse these well known elements into a transfixing tale that captures us from the discovery that 'may contain human bones' until the final chilling denouement, when we learn just who transformed a human into the remnants of their skeleton. I am pleased to report that 'The Summer Party' does exactly that, despite Lucy's surprising naivety.
What's it about?
When Lucy's grandmother dies, she returns to the scene of some memorable childhood moments to pack up her grandmother's life. Queen's Point, South Australia, was never a town that interested Lucy until she met the Whitlams – elegant Mae, artistic Harry and friendly Annabelle – and edged her way into their charmed social circle. Despite warnings from her grandmother, teenage Lucy flirts with Harry and hangs around Annabelle until the titular Summer Party marks the end of her stay, never realising that one party guest hadn't left alive until twenty years later when human bones wash up on the beach…
In a storyline that flips between the period approaching the party in 2000 and events following the discovery of the body in 2020, Lucy is equally enthralled by the rich Whitlams and their lavish lifestyle (2000's Annabelle has stacks of DVDs carelessly piled up in her teenage bedroom), failing to heed the most obvious warning signs and desperate to cling to her historical relationships as if they were current friendships, even as the evidence of foul play starts to point towards her…
What's it like?
Highly engaging. Mildly gothic. Mildly frustrating! Lucy's teenage naivety is forgivable; her adult naivety is not. Of course Lucy stalks the whole family on social media; of course they completely ignore her in response – except Harry, who's not averse to a booty call. As the family alternately pull her close and push her away, whispering the secrets they want her to know, Lucy seems unable to form a thought that doesn't involve their being old friends and therefore trustworthy. Even Lucy's marriage seems to have been a hostage to her feelings for the Whitlams and now she's a widow with a distant, adult step child, Lucy has no remaining family to warn her that the rich don't stay rich by being nice to their underlings…
Local cop Jake tries to warn Lucy that she should stay away from the family at the centre of his investigation, but this just gives Lucy an opportunity to be torn between the good cop and the bad boy, seemingly fancying whichever one happens to drop by her house. That said, while I thought Lucy vacillated too much between the two men, I liked the direction Heath took this in towards the end of the book – and I enjoyed the drama of the actual end.
Final thoughts
Gradually, Lucy begins to recall the complex relationships in the Whitlam family, (and Heath offers the reader glimpses into all three of the siblings' 2000 thoughts to show the pressures they were under,) but she's still remarkably willing to be used by them all, until a final invitation places her in a truly dangerous situation. Those who live apparently perfect lives must not have that image disturbed by the housekeeper's granddaughter…
I enjoyed reading 'The Summer Party', despite Lucy's childishness, because I enjoyed finding out more about the family relationships and I liked the slight gothic tone to parts of the story (like Lucy's visit to the deserted beach). I was also interested in finding out what had happened to the body before it ended up in the water, though that part got a little complicated due to the sheer number of characters who had just cause to loathe the dead character!
I'll be interested to see what Rebecca Heath writes next.
'The Summer Party'.
Rebecca Heath,
2023, paperback, Head of Zeus
Many thanks to the author, publisher and CrimeFest for providing me this ARC.