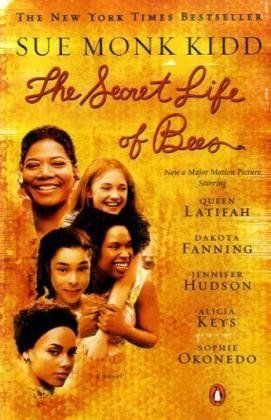 Lily Owens yearns for her mother.
Unfortunately, not only is her mother dead, but Lily believes she killed her. Trapped on a peach farm in South Carolina with her abusive father, T-Ray, Lily longs to become a writer, but can't imagine how her life will ever amount to anything.
One hot July day, inspired by the passing of the Civil Rights Act, Lily's nanny, Rosaleen, is arrested, beaten and thrown in jail for an act of defiance towards three rude racists. Lily, full of fury with her father for his unloving attitude, rescues her nanny and the pair escape to a place Lily thinks her mother knew: Tiburon, home of three bee-keeping sisters who offer them sanctuary.
What's it about?
Sisterhood, loss, mothering – including the divine mother, Mary – and the power of story-telling.
Monk Kidd shows us how women can forge a community that allows them to endure loss, and how story-telling allows us to shape, understand and transcend our conception of our self and our lives.
The civil rights act is an important background for the plot, but Monk Kidd seems more interested in the religious ideas explored in the novel – especially the way the women have developed a practice of worship of the feminine divine that allows them to recognise what is divine in themselves.
What's it like?
Almost magical. Comforting. A little fantastical in places.
'It's funny how you forget the rules. She was not supposed to be inside here. Every time a rumour got going about a group of Negroes coming to worship with us on Sunday morning, the deacons stood locked-arms across the church steps to turn them away. We loved them in the Lord, Brother Gerald said, but they had their own places.'
In some ways, Lily's character is reminiscent of Scout Finch from 'To Kill a Mockingbird', who cannot understand why black people are treated differently / badly. Lily's naivety seems rather less convincing in a 14 year old who lives with a deeply racist father, but I suppose her experiences with Rosaleen, who has raised her for the past ten years, have acted to counteract the views Lily must have otherwise been submerged in from her community.
Having recently read Monk Kidd's new novel, 'The Book of Longings', I can see the author returns in that fascinating tale to the themes of sisterhood which are so crucial in this story, her first published work of fiction. I recommend both as interesting, uplifting stories that revere sisterhood and the female divine, whilst offering readers an insight into another world – here, the culture and minutiae of bee keeping. I enjoyed learning a little about bees and beekeeping and contemplating the connections between the bee community and the human community.
Final thoughts
This is a tender coming of age story, full of wish fulfilment. Lily longs for a mother and as the story develops she discovers a veritable collection of them! In places I felt I had to actively suspend my disbelief. Three sisters, who have lived peaceably on their own for many years, happily take in a runaway white child and a runaway servant? Hmm. (Although, this does make more sense later, and one of the sisters does object. Repeatedly. In Lily's hearing.)
Then there's the ending…some wishes will never be realised but miracles do seem to happen, and I found elements of the ending unconvincing, though not in a way that spoiled what went before. Equally, Monk Kidd's story makes it clear: difficult and traumatic events will happen in our lives and we can't prevent that, but we can share our grief with our sisters, shape our own story and thereby still control the narrative of our lives. Do not pity Lily, for by the final chapter of 'The Secret Life of Bees' she is strong and she is loved – crucially, by herself as much as by her myriad mothers.
'The Secret Life of Bees',
Sue Monk Kidd,
2008, Headline Review, paperback