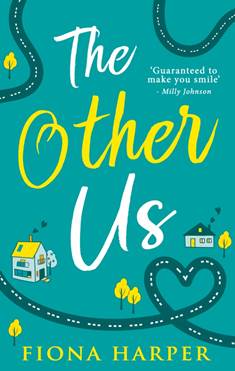 If you could turn back time, would you choose a different life?
What a question! Would you? After reading the first few chapters I was intrigued but concerned – had I already worked out exactly what was to come and why? If so, 475 pages could feel like quite an effort to reach a conclusion I'd identified in 40 pages. Fortunately, I was wrong, but even if I had been right, I'd have enjoyed those 475 pages.
Fiona Harper's writing is delightful: mildly humorous, easy to read and packed with minor but significant details. She's clearly a master of her craft and it's no surprise to learn that this is Harper's 25th published book.
What's it about?
Maggie is in her forties and feeling unfulfilled. Her teenage daughter has flown the best, she has no meaningful occupation and her relationship with her husband is stale.
When best friend Becca tells her about their college's 25 year reunion she deliberately offers up an enticement Maggie struggles to resist: Jude Hansen.
Maggie and Jude were together before Maggie married Dan, and on the eve of Dan's proposal, Jude suggested they go to Paris together. Although she walked away, Maggie sees Jude as her "what if?" and, after "settling" for Dan, can't resist speculating on what her life might have been like with the man she thinks might be The One.
On the morning of the reunion Maggie is astonished to wake up in 1992, aged twenty-one again and mere days away from Dan and Jude's proposals. Will she make a different choice? What will happen if she does?
What's it like?
Deftly handled. Intriguing. Deliciously tantalising.
We all have "what ifs" and I loved that in this book Harper explores not one alternative life for Maggie, but three. It's a tribute to Harper's skill that the reader is never confused, wondering which Dan or Becca is in the current version of Maggie's life.
'I thought my love for Dan was comfortable, like a bath you're not quite ready to get out of, even though it's well on its way to lukewarm.'
This could have been simply a book about a woman torn between two men, but it's better than that. Maggie struggles with creating meaning for herself in all her lives and gradually learns to be true to herself and the true meaning of the wedding vows she took.
There's certainly a strong element of wish fulfilment in the book – in one of Maggie's lives she becomes filthy rich and has numerous exotic holidays – but, of course, to live a truly satisfying life requires more than just money, and Maggie takes a long, long time to learn her lessons, but learn them she does, leaving the reader perfectly satisfied with her final choices.
How does it work?
Well. Maggie doesn't know and nor do we. Once she's realised she's not dead or in heaven, Maggie wastes very little time on pondering the hows and whys of her time travel and I suggest readers who want to relax and enjoy the ride do the same! Suspend your disbelief and you'll enjoy this story of a woman who is granted a second chance at life.
Final thoughts
I really enjoyed Harper's written style and the way each storyline developed (though one of Becca's reveals late on seemed underwhelming, given the strength of her attitude). I particularly liked that all the relationships featured were heartfelt and no one turned out to be deceitful in the typical way of romance stories.
Perfect beach reading. Pack it in your summer suitcase, savour it with a chilled glass of wine, then take a moment to ask yourself –
Would you?
'The Other Us',
Fiona Harper,
HQ, 2017, paperback ARC
Many thanks to the author and publishers for providing me with a free copy of this book in exchange for an honest review.