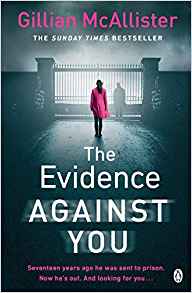 Trust. Doubt. Ultimately even a court's conviction is based on a handful of opinions.
What damage might it do to a family if those opinions were wrong? If that conviction were unmerited? Would you know? Would you doubt? And would you risk everything to find out?
Gillian McAllister's fourth psychological thriller explores this question through a father-daughter relationship that has just endured a seventeen year hiatus. Why? Because he was convicted of murdering her mother.
What's it about?
It's the day Izzy English's father is released from jail.
She has every reason to feel conflicted. He's the man who gave her a childhood filled with happy memories. But he has also just served seventeen years for the murder of her mother.
Now, Izzy's father sends her a letter. He wants to talk, to defend himself against each damning piece of evidence from his trial.
But should she give him the benefit of the doubt?
Or is her father guilty as charged and luring her into a trap?
What's it like?
Gripping, tense and occasionally frustrating (how could you ignore the evidence for 17 years, Izzy!) with a surprising ending, 'The Evidence Against You' is another compelling story from McAllister, who writes brilliantly about the messiness and complicated nature of human relationships.
Despite running a successful restaurant and settling into a relatively recent marriage, it soon emerges that when her mother died Izzy pressed 'pause' on her life and her feelings. What does she believe? She has no idea. What does she want? It isn't running a restaurant. Who is she?
Believing that her father murdered her mother has destroyed Izzy's sense of her self, of her history and her possible future, so it's understandable that when her father asks to explain, part of her desperately wants to listen.
It's perhaps equally understandable that Gabe, having spent the last seventeen years locked away and branded a vicious murderer, is keen to present a rose tinted view of their shared past. But is the once talented artist simply painting a happier view or are the false notes Izzy detects in his so-called memories a warning she should heed?
Final thoughts
Izzy's historical head-in-the-sand approach to her father's murder conviction is sometimes a little frustrating, (you were 17, Izzy, not 7: saying 'everyone else said he did it so I just believed them' is quite a horrific condemnation of your own father,) but her seesawing between a tentative belief that her father may be innocent after all and her genuine fear that she will come to serious harm is utterly compelling.
As McAllister shifts back and forth between events in the present (someone wants Izzy to beware Gabe; Izzy investigates Gabe's assertions) and past (scenes recollected by Gabe and then further recollected by Izzy) the tension never dips, even when Izzy meanders through the family's financials.
In fact, as the twists and turns begin to excavate the truth, the reader remains as mystified as Izzy: do new revelations exonerate or further implicate Gabe? Is he a terribly wounded man or a sociopath getting ready to strike again? Izzy is going to find out…
'The Evidence Against You' is clever, compelling and ends with a pleasing coda. Recommended.
'The Evidence Against You',
Gillian McAllister,
2019, Penguin Random House, paperback