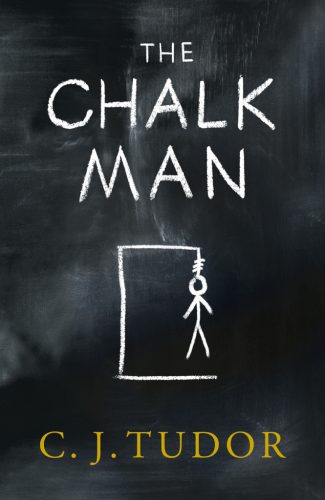 Very hyped books.
You know those books. The ones EVERYONE is talking about? The one even your non-book-reading friends have read? Yeah, that one. And you find yourself wondering, how is it possible that I've not read this? Why don't I possess a copy yet? If you're a book blogger there might even be a tiny hint of shame. (Surely ALL the other book bloggers have read this? What planet have you been on?) 'The Chalk Man' was definitely one of Those Books, which is why I was delighted to receive a copy for my recent birthday.
Now I know the question you want to ask: was it worth the hype? In a word, yes. In a few more words, any book so creepy that I have to read a few chapters of one of my favourite "comfort books"* before I go to sleep to avoid nightmares, is definitely worth a read for a thriller fan. But let's start at the beginning, in case you, too, have been visiting another planet.
What's it about?
Eddie is a lonely man who lives with a younger female lodger. Eddie isn't just lonely, though. Eddie has secrets: a past haunted by accidents (but were they?), a murder, and the chalk men.
The story begins when an old friend contacts Eddie and they agree to meet for dinner. But Mickey never was that close a friend, and now the chalk men have returned…
What's it like?
Beautifully compelling. Dark. Thrilling.
Tudor seems to handle the pace effortlessly, switching back and forth between 1986 and 2015 seamlessly, creating perfect cliffhangers that thrill and lure without feeling clunky or like bait. It helps that both eras are narrated by Eddie himself, who is, frankly, odd and introspective. But again, perfectly wrought: he's not too creepy to feel that we're on his side, and not so introspective that you have to skip maudlin passages fixating on a lost youth.
All the characters have secrets, dark spots and the potential to turn out to know more than they should. Someone knows who drew those chalkmen…
I was a little underwhelmed by a significant aspect of the final solution – I just wasn't convinced by it's plausibility – but everything else worked well, a multiplicity of threads resulting in multiple mini-denouements, crowned by a fabulous ending.
Final thoughts
I loved 'The Chalk Man' and read it in just over a day, which is unusual for me. It's genuinely compelling, the psychology of it all is spot on,** and C. J. Tudor is clearly a woman after my own heart: don't read this expecting happy endings – there are none – but do read it.
'The Chalk Man',
C. J. Tudor,
2018, Penguin, hardback
* Comfort books: Books I have read numerous times, which I can always devour a few pages / chapters of when I'm too drained to start anything new. Usually Austen's P&P or Douglas Adams' superb Hitchhikers.
** I really want to say more about this but do not want to spoil the plot!