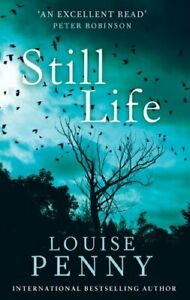 This is one of those 'it caught my eye, but' books.
It clearly caught my eye enough for me to buy it, and, in fact, I recently added a second Louise Penny title to my collection, still without having ever read the first. There was obviously something about the plots I found appealing – or at least the blurbs! But. Something else always edged in front: a book with a read-by deadline, or one I couldn't resist anymore.
Finally, a member of my book group suggested we should all try reading some Louise Penny, at which point I thought I might as well start with book one in the Chief Inspector Armand Gamache series. I'm glad I did, as I have a suspicion that these books should really be read in order. But let's start at the beginning.
What's it about?
When Miss Jane Neal is found dead in the forest on Thanksgiving weekend – apparently shot by an arrow – the locals assume it is a hunting accident. After all:
'Every year the hunters shot cows and horses and family pets and each other. And, unbelievably, they sometimes shot themselves, perhaps in a psychotic episode where they mistook themselves for dinner. It was a wise person who knew that some hunters–not all, but some–found it a challenging to distinguish a pine from a partridge from a person.'
However, when Chief Inspector Gamache is sent from Montreal to investigate, he soon discovers that it would have been almost impossible for the shooting to be an accident. Someone meant to murder quiet, retired Jane Neal, but why? Could it possibly have anything to do with her recently unveiled artwork? If so – what?
What's it like?
Unusual. Philosophical in mood. This is cosy crime with art at the centre.
Given the focus on art throughout the story (it's crucial to the whole plot), you might expect the 'Still Life' of the title to refer to still life paintings. Instead, the title refers to the notion of a life not properly lived, seen when the Chief Inspector finds himself discussing with an ex-psychiatrist how lives can be wasted:
'Life is change. If you aren't growing and evolving, you're standing still, and the rest of the world is surging ahead.'
'I think many people love their problems. Gives them all sorts of excuses for not growing up and getting on with life.'
If these kinds of reflections make you impatient to get back to the crime at hand, this might not be the book for you. Penny's characters daydream, they pontificate and they exchange theories about the nature of people.
They are also shockingly rude to each other, which I think is meant to show a cosy intimacy…but could also suggest the aggravations of living life side by side in a small village with people whose faults you know too well and who have probably witnessed the worst sides of your character, too.
Penny dips in and out of her characters thoughts, encouraging us to have some empathy even with unsympathetic characters like Agent Nichol, whose calculating, ignorant missteps are truly cringe-inducing.
Although I was initially mildly incredulous at the style of investigating (Gamache calls a town meeting and invites suggestions from the attendees about the nature of the killing), I gradually grew to enjoy the chatty, reflective tone of 'Still Life'.
Final thoughts
I enjoyed this so much, although I'm still not sure I could pinpoint why, that I'm already half way through another book in the series. I think I am going to need to start hunting these down in order so that I can enjoy them properly. In book four, Clara Morrow (who in this book is, 'as yet undiscovered and, most of her friends secretly felt, was likely to remain that way if she persisted in her unfathomable works',) is suddenly an artistic genius, a startling development which presumably has some build-up in books two and three!
If you like the sound of a cosy crime story, marinated in the art world and served with a sprinkling of philosophy, then this book should suit you well.
'Still Life',
Louise Penny,
2011, sphere, paperback