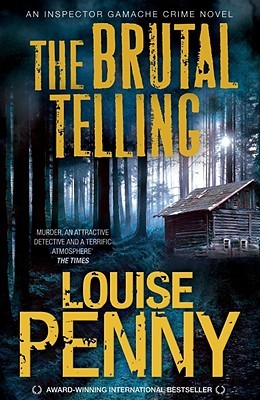 'All of them? Even the children?'
The fireplace sputtered and crackled and swallowed his gasp. 'Slaughtered?'
'Worse.'
There was silence then. And in that hush lived all the things that could be worse than slaughter.
By now, readers of Louise Penny's Three Pines series may think they know these characters well, but Penny is determined to show the true darkness of human souls, how easily they are blackened and twisted, and this time it's series regular Olivier whose secrets are being exposed.
What's it about?
When a body appears overnight in the local Bistro, the residents of Three Pines are puzzled: no one knows this man – or at least, no one will admit to knowing him – which is odd enough in a small village where all the inhabitants are known to each other.
Even more shockingly, the man has obviously been murdered. Why?
When Detective Inspector Gamache arrives from Montreal to investigate, he discovers an unusual treasure trove, a secret code and some shameful secrets, but can he uncover the murderer?
What's it like?
Reflective. Slow paced. Amusing.
'His name isn't "Young". That'd be weird. His name's Havoc.'
DI Gamache and his second in command, Jean Guy Beauvoir, have very different approaches to the local villagers. While Beauvoir explicitly questions the villagers and tries to conceal his horror at their laissez faire approach to security, Gamache listens intently.
'He preferred it that way. His agents asked the questions and it freed him up to observe, and to hear what was said, how it was said, and what was left out.'
'The bistro was empty, except for them. But it seemed crowded to the Chief Inspector. With the lies they'd been told, and the lies being manufactured and waiting.'
My experience with 'The Brutal Telling' was quite similar to my experience with the first novel in this series, 'Still Life': initial slight bemusement (why is an adult telling another adult a creepy story? Why is a grown woman walking around with a duck?) followed by curiosity (What caused a man to live this way?) followed by a sense of satisfaction (there's a firm moral conclusion!) This is very much a mystery with its roots in the human condition, rather than simply a casual Whodunnit, so although the solution may appear obvious to the reader, it's not at all obvious to the villagers…
Final thoughts
Ruth Zardo, local poet, who stalks poor Beauvoir with fragments of poetry, has acquired a duck whom she dresses in baby clothes and takes on walks around the village. If you think you might enjoy – or at least tolerate! – such eccentricities at the edges of a story, then you might enjoy this slightly unusual mystery.
Personally, I'm still a little shocked by the ending and I feel like there must be more to this story. I dislike stories that can't stand on their own merit but try to hogtie you into reading the next book in the series, but that's not quite the case here. 'The Brutal Telling' is a story complete unto itself and I feel like the ending, where the reader surely doubts the conclusion despite the evidence, aligns us neatly with the villagers. It is impossible to know another human being fully, Louise Penny insists, especially if they refuse to know themselves.
This can be read as a standalone, but obviously will have more impact on readers if read in sequence as part of Penny's Three Pines mysteries. Personally, I'll definitely be searching out book six, 'Bury Your Dead', to find out what happens next in Three Pines, a village with a disturbingly high murder rate!
'The Brutal Telling',
Louise Penny,
2009, Headline Publishing Group, hardback