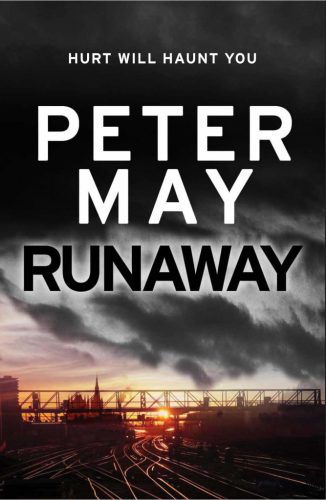 Five of us had run away that fateful night just over a month before. Only three of us would be going home. And nothing, nothing would ever be the same again.
'Runaway' is described in the blurb as a crime thriller but is really a road trip adventure that happens to encompass a crime. Nonetheless, I enjoyed it.
What's it about?
In this standalone story set in the 1960s and 2015, Glasgow and London, Peter May introduces us to Jack Mackay, a sixty-seven year old man weighed down by regrets and feeling mildly bitter about living what he considers to be a mediocre life. When Jack is summoned to meet his old pal, Maurie, in the Victoria Infirmary, he is shocked by Maurie's condition, but that shock quickly pales beside his friend's urgent revelation: a three week old murder holds the key to another murder, committed fifty years earlier, and this means they need to runaway to London. Just like they did when they were boys.
Despite his initial reservations, Jack is soon persuaded to leave behind his not especially exciting existence in Glasgow for an adventure to London, and seems to have put about as much thought into this trip as he did when he was seventeen.
What's it like?
Nostalgic. Lightly humorous. Think coming of age story, but also – a coming of old age story. The older Jack is not necessarily much wiser, though he certainly has some lessons to teach his grandson, but he is at least able to recognise the mistakes made in his youth.
I enjoyed the adventures the five young men and the three older men had, though there were elements that felt seriously contrived (of course the young men will just happen to stumble upon an icon or three of the era). The shifts between 1960s London and 2015 London were well handled, with the gradual revelations aiding our growing understanding of the key characters. I like the honesty of the overall story arc. Not all mistakes can be fixed, but life carries on regardless.
The period detail was interesting and I found myself researching a few of the topics touched upon to find out more, which I always think is a good sign of an author who has said just enough to interest you in something and not drowned you in their research!
Final thoughts
This is a good road trip story and I particularly enjoyed the parallels between the two trips. 'Runaway' provides an interesting glimpse into life in 1960s London and could well serve to remind us all to grasp at life, rather than allowing it to drift by.
As for being a crime 'thriller' – I couldn't have cared less about the initial murder and none of the characters cared about the decades old one, which meant the story was an enjoyable adventure rather than a gripping thriller. That said, I liked the denouement, despite the drop of unnecessary sweetness at the end!
This is the second of Peter May's books I've enjoyed (my review of 'Cast Iron', the final instalment in his Enzo series is here) and I look forward to reading more in time.
'Runaway',
Peter May,
2015, Quercus, hardback