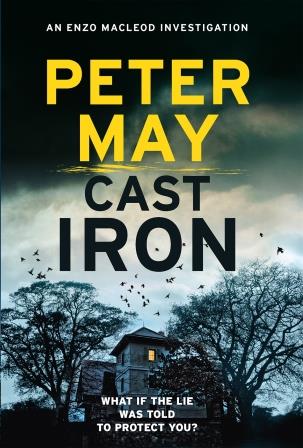 In 1989, someone murdered 20 year-old Lucie Martin and put her body in a lake.
Fourteen years later, her bones were discovered during a heatwave, but her murderer remained unknown and a source of intense speculation in Western France.
Cue forensic expert Enzo MacLeod, who wants to conclusively solve the cold case so Lucie's parents can finally move on. Oh, and because he wants to win a bet, of course.
What's it about?
Enzo MacLeod's attempts to solve a decades-old cold case and the danger it brings upon his family. After all, if a killer hasn't been caught yet, they'll be desperate to preserve their liberty…
The pain people feel upon losing their loved ones, and how that pain lingers over time.
French geography and culture and the difficulties inherent in solving a decades old cold case. Peter May is a Scotsman who has moved to France – and so is Enzo MacLeod – and so descriptions of French buildings and brief reflections on cultural differences form a significant and pleasant part of the novel.
What's it like?
Thriller-esque while remaining deeply rooted in Enzo's personal life. Early on we are given a whole chapter with no progress on the cold case, which just establishes Enzo's complicated previous relationships and current predicament regarding his son and ex-lover.
The opening of 'Cast Iron' is particularly intriguing. Why break someone's neck when they're already dead? Rest assured, ultimately you'll discover why, (actually you can guess why early on, but it's fun to have your suspicions confirmed or undermined later on,) and it will make perfect sense.
Although I read this as a standalone book, the story within is clearly building upon events from previous books in the series, and I imagine it's more enjoyable to read if you've read a few of the earlier books. As it was, I was somewhat startled by the plethora of love interests that cropped up as the story developed, especially when one of them becomes serious within what felt like five minutes, despite Enzo having not spared her a thought for the first two thirds of this book!
There's plenty of police work as Enzo tries to interview original witnesses, and lots of tension as he suspects men who are now members of his family of betraying them all.
'A moment of madness, a lifetime of lament, and he can never tell her now just how much he loved her.'
There's also plenty to thrill – there's a kidnapping, some brave escapes, people getting trapped in historic buildings…. My attention was grabbed and held by the dramatic events but I was really fascinated by the cold case, which took multiple twists and turns along the way, incorporating several additional murders by the time the truth was revealed.
The final reveal of the personal story is impossible to see coming, despite all the preceding police work, but everything is stitched together and it's an ending with no loose threads or dubious connections. The final reveal of the solution to the cold case is very straightforward in comparison and is actually very sad (becoming more so every time you think about it!) but makes perfect sense.
Final thoughts
I enjoyed this story very much, despite not having read the preceding five books in the series. I think it would be quite interesting to read them now, knowing what I do about this final case. Certainly I wouldn't be put off reading them by knowing the ultimate conclusion as I liked Enzo's investigative style and would still like to see how the other cold cases were solved. I would also be fascinated to see Peter May's planning; if he always knew this was the ending of the series then I'd love to see how all the threads form as the series develops.
Fans might have expected seven books as Enzo had set himself the challenge of solving seven of France's toughest cold cases, but in this final instalment in the series, two cold cases are solved, and we see Enzo's retirement. It seems well-earned!
Want to know more? You can find out more about Enzo MacLeod here.
'Cast Iron',
Peter May,
Quercus, 2017, paperback ARC
Many thanks to the author and the publishers for providing me with an advance copy of this book in exchange for an honest review.