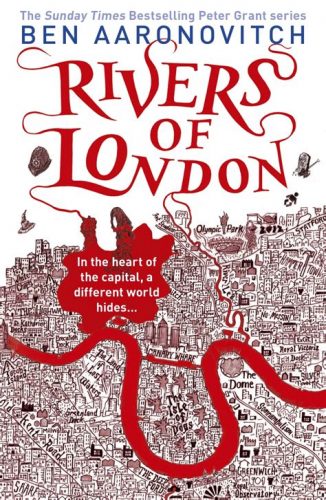 'Right, I thought, just because you've gone mad doesn't mean you should stop acting like a policeman.'
And that's the beauty of this book in a nutshell: even when he's faced with feuding River Gods and Goddesses, and vicious revenant ghosts apparently obsessed with puppet shows, freshly minted constable Peter Grant is ready to employ the Metropolitan Police Service's guidelines in order to secure the Queen's Peace – alongside a touch of magic, of course.
What's it about?
When Peter Grant tries to take a witness statement from a dead man, his reluctant consignment to the Met's 'case progression' unit seems secure. As his 'proper thief-taker' colleague, Lesley, observes: 'You're not that good a copper…[you're] Too easily distracted'.
Then Peter finds himself apprenticed to a Wizard and serving the Met as part of a staunchly unacknowledged 'specialist crimes' unit; his new Master also notes his propensity to distraction, but by then Peter Grant is part of The Folly.
While learning the basics of magic and the strength of supernatural Powers, Peter tries to solve several brutal murders, gain an interview with a dead witness and solve a supernatural feud. So there's plenty of plot!
What's it like?
Humorous. Firmly rooted in London geography. Ultimately puzzling.
What kept me reading was the deliciously dark humour, the interesting references to genuine police procedure and protocol and my desire to uncover the meaning of the preceding events. While the humour and procedural details maintained their interest til the end, the end itself was perplexing. I think once a certain level of fantastical happenings is reached, my brain simply switches off, so I really couldn't explain the ending of this to anyone. Not convincingly, anyhow. This is really my flaw and not the author's: I love crime fiction but often find fantasy a little too…fantastical. I imagine Harry Potter fans would adore this.
Final thoughts
For a police officer, who presumably likes to investigate things, Peter is surprisingly accepting of (a) his initial meeting with a ghost, (b) his further discovery of myriad supernatural beings, and (c) Molly, the live-in help at The Folly who may or may not have teeth in a rather unusual place. But then perhaps this is precisely why he is so suited to the role of Wizard's Apprentice.
'Rivers of London' is a largely enjoyable mix of the factual, the geographical and the supernatural and does a good job of establishing the key characters and hinting at backstory that will presumably be developed in future instalments of this series. Try it if you enjoy mild horror, creative fantasy and, erm, naked water Goddesses.
'Rivers of London',
Ben Aaronovitch,
2011, Gollancz, paperback