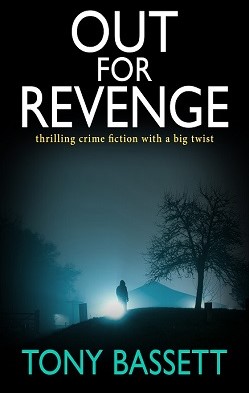 Local drug dealer found dead – very dead.
Death is surely an occupational hazard for drug dealers, especially those who are actively engaged in turf warfare, but when Tadeusz Filipowski's body is examined, it becomes clear that more than one person really wanted him dead. It's up to Heart of England police detective sergeant Sunita Roy to establish who actually killed the recently released gangland boss – and who just wanted to!
Meanwhile her boss, detective chief inspector Gavin Roscoe, is investigating suspicions of corruption in a neighbouring police force. Can he nail down the offending officers before they realise who's onto them and destroy the evidence? Or will the villains find a way to put Roscoe out of their way for good?
This is the fourth book in former journalist Tony Bassett's Midlands crime series and it's just as entertaining as the first in the series ('Murder on Oxford Lane' – reviewed here).
What's it about?
See above! It's no surprise when the two investigations turn out to be related as the reader knows from the start who the corrupt officers are. What did surprise me was when DCI Roscoe selected a vulnerable young man to complete undercover work for him instead of selecting an existing police officer. I was on tenterhooks waiting for this to go seriously wrong!
The story opens with a prologue that effectively sets up a key thread for both storylines: a 'customer' who failed to pay his drug bill receives his punishment and, when the story's main timeline starts, two men have been convicted for this offence. The twist? Their lawyer is arguing they are innocent and, within what feels like minutes after Heart of England police start investigating, it turns out that both had alibis which officers within the other police force ignored. Incompetence or corruption? Given that Roscoe's boss is fairly sure there's a group of officers running an organised crime group from within that police force, corruption looks like a safe bet, but who exactly is implicated?
What's it like?
The police procedural is interesting and I genuinely found myself feeling very tense at points – especially when one of the police figures tried to escape from the corrupt cops during an intelligence gathering operation. The evidence is gradually sifted through and witnesses examined as we move closer to the truth and, hopefully, to some arrests. The story held my attention and I was keen to discover who masterminded Filipowski's death and whether the corrupt cops could be detained and held.
But Bassett has another thread unspooling too… Many prisoners protest their innocence, but one particular man locked away feels so strongly that he's changed his name by deed poll to Carl Innocent. Throughout the story we revisit Innocent, witnessing his rage, his sense of futility and his desire for revenge. Gradually, as the story moves towards its dramatic conclusion, Innocent veers into the spotlight… Personally, I found this thread less appealing than the others. I'm never keen on dragging officers' personal lives into their investigations and thought there was plenty of interesting plot without these extra elements. However, it does add a little something extra to the story as you wonder how Innocent will fit into it all.
Final thoughts
I particularly enjoyed the interactions between DS Roy, DCI Roscoe and the villains they interview. The culprits offer their excuses and the respectable officers demolish them, refusing to accept self-justifying or self-pitying statements from the criminals. It gives the story a lovely sense of completeness, of justice satisfyingly accomplished without any pity for the perpetrators muddying the waters. The villains are villains. Tick. Next case, please.
Although this is part of a series it works perfectly well as a standalone story; sufficient backstory is lightly referenced when it's needed and although elements of this case are clearly related to events from previous books, I didn't feel there were any gaps in my knowledge or that I was being obviously 'filled in' on past events.
I still find Bassett's style a little awkward at points – too many adjectives for me – but I enjoy the storylines and look forward to reading more investigations featuring Heart of England's finest police officers.
'Out for Revenge',
Tony Bassett,
2022, The Book Folks, paperback
Many thanks to the author, publisher and Rachel's Random Resources for providing me with a copy of this book in exchange for an honest review and a spot on the blog tour.
Want to know more? Follow the tour: