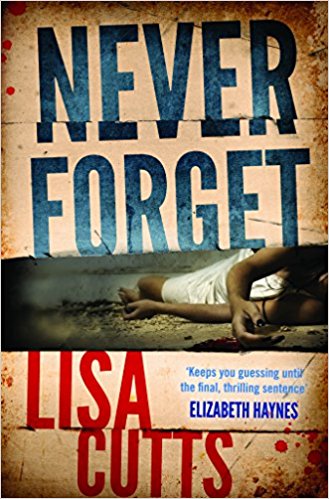 I had the pleasure of meeting Lisa Cutts at Crimefest in 2016.
Listening to her talk, she was so friendly, knowledgeable and good humoured that I had to buy one of her books, which somehow over time got buried under a heap of other books.
Having recently read and LOVED her fourth book, 'Buried Secrets', I was inspired to locate 'Never Forget' to enjoy the first book following the adventures of the detectives at East Rise Incident Room.
What's it about?
A serving police officer with Kent police for twenty years now, Cutts writes gripping police procedurals, infused with a dark sense of humour that will doubtless be familiar to her fellow officers.
In 'Never Forget', DC Nina Foster is excited to be involved in a team trying to locate a serial killer who has – so far – murdered three people. What's the connection between killer and victims?
Nina's role on the team comes under threat when her traumatic childhood is unearthed via a mysterious set of photographs. Who is stalking Nina? Why? Can she remain working on the murder enquiry with this implicit threat against her?
What's it like?
Realistic. Character-driven. Detail-orientated.
I thoroughly enjoyed reading about how a major incident is handled, with twice daily briefings, job allocations from senior officers and plenty of paperwork (taking a statement is more involved than I had anticipated).
This focus on accuracy (Cutts has previously been critical of authors carrying authorial license too far in their representation of police work) does slow the pace of the investigation, which unfolds in real time and with due attention to 'detention clocks' (the period of time the police can detain a suspect before they must charge or release them), but there is still plenty to enjoy: the banter between the officers; the giveaway reactions of a suspect; the activities of the local recurring criminals.
The final, dramatic events cause the reader to thumb swiftly through the remaining pages, then give way to a quiet hospital scene, which doesn't reveal as much as I would have liked about the culprit(/s) and ends abruptly with a revelation which took me at least ten minutes to process (though I blame my current sleep debt for this slow processing, rather than Cutts' storytelling).
Final thoughts
I enjoyed reading 'Never Forget'. I found it slower paced than 'Buried Secrets' but still found it compelling for the way the police investigation unfolds. In a Q&A after the story Cutts comments that so often detectives are presented as solving the crime single-handedly, but it is always a team effort, and it is the East Rise Incident Room team that I shall look forward to meeting again in Cutts' second book, 'Remember, Remember'.
'Never Forget',
Lisa Cutts,
Myriad, 2013, paperback