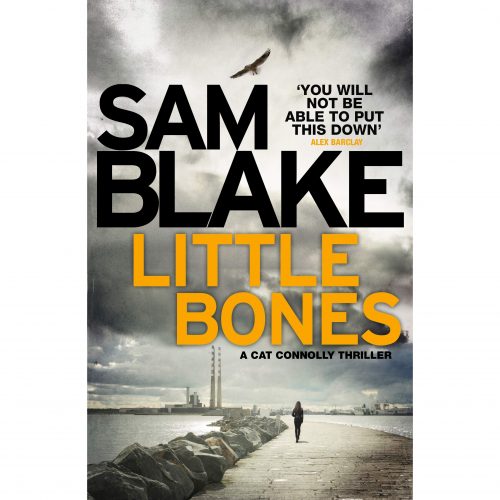 'Little Bones' by Sam Blake.
I really wanted to love this.
I've wanted to read it for ages: I've heard nothing but praise for the author, and the idea of a baby's bones sewn into the hem of a wedding dress is disturbingly intriguing. I bought a copy for a friend, and was delighted when she lent it to me, diving straight in despite being half-way through a library book at the time.
But, in hindsight, the warning signs were there. For instance, the blurb begins:
'Meet Cathy Connolly. Cop, kickboxing champion and soon-to-be single mother.'
The next paragraph focuses on the dilemma of her pregnancy, then there's a paragraph about the actual case, and then the final paragraph reverts to Cathy and informs readers that she 'doesn't know how dangerous – and personal – this case is about to become'.
Somehow, I still picked this up wanting to read a story about a baby's bones, which yes, this is, but it is primarily a story about Cathy Connolly. Cathy Connolly is quite lovely, but I typically prefer a stronger focus on the crime, and ultimately that was the case here.
What's it about?
When Zoë Grant's house is broken into, Cathy Connolly discovers old bones stitched into the hem of a slashed wedding dress. Whose are they? How did they get there?
Then the original owner of the dress, Lavinia Grant, is found dead. What was Zoë's grandmother hiding? How did she die?
Garda Connolly finds herself trying to unpick decades old secrets and lies to uncover the truth.
Meanwhile, a killer has arrived in Dublin, and he has a different bone to pick with Lavinia Grant. He's not about to tolerate anyone getting in his way…
What's it like?
A decent police procedural starring a modern, thoroughly likeable heroine and more than one old witch.
Evidence is considered, analysed and often found wanting. Witness statements are crucial, but Zoë is vulnerable under pressure, Lavinia is dead and Trish – Lavinia's friend – is appalled that the police could want to waste any more of her time with their ridiculous questions. If only they had another witness…
Primarily though, this is an introduction to Cathy Connolly, and an exploration of her feelings about her pregnancy. Cathy is one of the boys in her shared house, loves her job and trains hard in the gym twice most days: can she really fit a baby into her life? Certainly she isn't prepared to change her life.
Final thoughts
I did read 'Little Bones' fairly quickly and it held my interest well. I wanted to know what had happened to the baby, though ultimately I would have preferred an ending that was a bit more fact and a little less theory.
There's a good mix of nice and nasty characters, some amusing moments with a flirty young policeman and a frankly improbable whirlwind romance.
The ending may prove divisive – it actually fits perfectly with everything that has gone before – but it is one of those endings that make you very glad book two has already been published so you don't have to wait for a resolution!
On the evidence of 'Little Bones', I suspect that Connolly is the kind of investigating character whose personal circumstances will always mirror the case, and Blake is the kind of writer who will place her lead character in deep peril – repeatedly – to heighten the tension.
I think probably this series isn't for me, but I can see the appeal of the central character and did find it interesting reading about how different life was in 1950s Ireland.
'Little Bones',
Sam Blake,
2017, twenty7 books, paperback