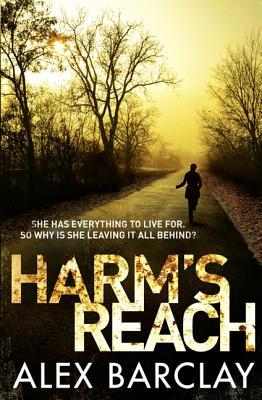 I may be something of an unusual crime reader.
As a rule, I'm really not bothered about the detectives; I mostly just want to know about the crimes, the clues and the solutions. Oh and the motivations, obviously! I think this is probably why I don't typically get attached to crime series featuring recurring characters: I mostly end up pitying them for all the dramas they have to endure in the name of creating an easy to sell book ('ooh, look, the latest ******* has been released, I must buy it') and wonder how on earth most of them keep going despite being shot at, betrayed and generally duffed up on multiple occasions.
Having previously read 'The Drowning Child' by Alex Barclay and not felt sufficiently excited about it to review it, I wondered whether this was related to Special Agent Ren Bryce or whether it was simply because I had read it on my kindle. (My kindle and I have a mostly hate-hate relationship.) Having read 'Harm's Reach' has confirmed my lack of interest, which does make me sad because I have met Alex Barclay and she was genuinely lovely. It seems Special Agent Ren Bryce is just not for me, but I would still like to review this as honestly as I can.
What's it about?
When a young woman's body is found abandoned in a car, Special Agent Ren Bryce is disturbed to see that she was pregnant. The more Ren discovers about the case, the stranger it gets, but gradually links emerge to a ranch for troubled teens and an outwardly respectable family who seem to be hiding some very dark secrets.
Before she died, the woman tried to contact Janine Hooks, a cold case investigator, which leads Ren and Janine to wonder which case she had information about, and how it related to her secret trip to Colorado.
What's it like?
The case itself is sufficiently interesting as the team work to stitch together some apparently unconnected threads relating to the troubled teens and a nearby home for women. However, a large part of the storyline is taken up with Ren: her feelings about herself, her bipolar illness and her boyfriend. In fact, Ren is given the final chapter of the book to establish personal developments that will presumably be explored in the next book in the series. 'Harm's Reach' does allow an insight into living with a difficult condition, but I found Ren a less interesting character than (e.g.) Harry Bingham's disturbed Fiona Griffiths, though that's possibly more to do with Bingham's engaging narrative style than any flaw in Barclay's creation of Ren.
There's a pleasing camaraderie between the team members investigating the murder and I liked the way they work together to solve it; this isn't a story with a maverick, superstar detective. In fact, it's possible that Special Agent Ren Bryce has allowed herself to be led astray by her instincts in this story…
Final thoughts
This wasn't a book that gripped me, probably because I prefer crime stories with less focus on the detectives' personal lives. However, the crime itself develops in a suitably interesting manner with a few twists and turns and I bet you'll want to reread the opening pages as you near the conclusion. I imagine fans of the series will be pleased and it's an interesting insight into one (fictional) woman's feelings about living with bipolar disorder.
'Harm's Reach',
Alex Barclay,
2014, HarperCollins, paperback