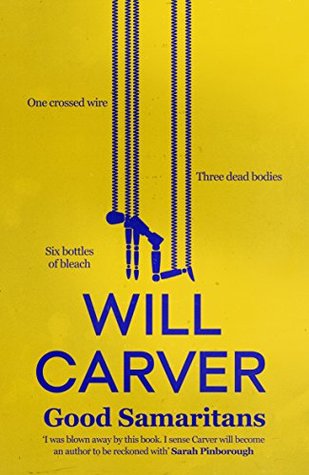 One crossed wire. Three dead bodies. Six bottles of bleach.
What a strapline! I was sold, but if you want more…
What's it about?
Where to begin? Insomniac Seth, who is married to borderline-alcoholic Maeve, gets to know suicidal Hadley as a result of a crossed phone wire and a weird late night hobby. Hadley is being watched by a surprisingly anti-social Samaritans helpline volunteer, anxious Ant, and will eventually come to the attention of the increasingly lost Detective Sergeant Pace.
Does this make the story sound complicated? It isn't at all: it's super fast paced, intensely gripping and a deliciously dark (and terrifying accurate!) insight into the frustrations, anxieties and increasingly disconnected nature of modern society.
Short version of the ultra-compelling blurb:
While Maeve sleeps, Seth can't. Instead he phones strangers, desperately trying to make a connection. When he gets to know Hadley and their night time chats shift inevitably towards day-time meet-ups, an already dysfunctional love story turns into something altogether darker, when Seth brings Hadley home…
And someone is watching…
What's it like?
Deliciously dark. Thrilling and almost comic in places, 'Good Samaritans' is a vicious slice of modern apathy, irritation and frustrated desire.
From the shocking prologue ('It doesn't get you clean. Not that much bleach.') through to the thrilling finale, Carver delivers an intensely gripping tale of five characters grappling with the pointlessness, painfulness and loneliness of modern life while cleverly building up a framework that allows you to think you know what's happening, only to have the rug pulled from beneath your feet and the world of the story flipped upside down.
Chapters are short but the sharpness of the writing will leave you craving 'just one more' and you could easily read this in one long night, delighting in the contrast between the precise, evocative descriptions and the severely dysfunctional nature of the characters' relationships and attitudes.
The main characters are simultaneously awful and strangely sympathetic with viewpoints that will immerse you completely. Oh, and there's some very dirty sex.
Final thoughts
The quality of Seth's exhaustion, Maeve's frustration and Hadley's self-hatred are all vividly conveyed through Carver's compelling prose. I loved the genuine 'OH!' moments I experienced when reading and that there was no sense at all of having been duped by the author; instead, after the initial shock, there was a pleasing sense of 'well, of COURSE that was what happened'.
Crime fans rejoice: Will Carver's back.
'Good Samaritans',
Will Carver,
Orenda Books, 2018, paperback
Many thanks to Orenda Books for providing me with a copy of this book in exchange for an honest review and a spot on the blog tour.
Want to know more? Look back over the tour: