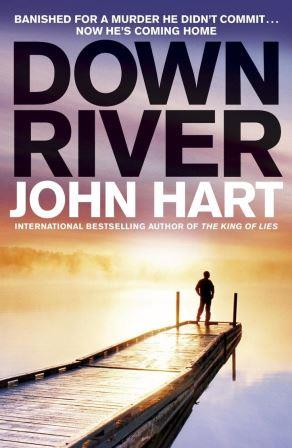 How far would you go to protect your family?
Could you forgive those who have wronged you? And even if you could, can you ever truly go home?
Billed as a novel for those who enjoy books by Raymond Chandler and John Grisham, John Hart's second book, 'Down River', is a dark and atmospheric trip into the heart of North Carolina – and the world of an increasingly dysfunctional family.
What's it about?
Adam Chase has had a hard life. His mother died in traumatic circumstances when he was young; years later he was accused of a violent murder he didn't commit. Despite being acquitted, the inhabitants of his home town – including his stepmother – persist in believing that Adam got away with murder.
When a phone call forces him to remember everything he left behind, Adam reluctantly returns home only to find that murder seems to stalk him. Within days the local police are seeking to arrest him again and it seems only Adam can find the true killer…
What's it like?
Fast-paced. Entertaining. A little clichéd.
From the moment Adam returns he's swept back into old feuds and relationships. It seems almost every man wants to punch him out and almost every woman wants to kiss him – except his stepmother, who refuses to even see him.
Adam is tough. The local men are equally tough and their hobbies seem to be guns, gambling problems and hard drinking. When Adam reflects on his time on remand, his attitude is typically masculine:
'I had three fights in the first week. It took a broken hand and a concussion to earn my place in the pecking order. I wasn't at the top, not even close, but judgement had been made.
'Tough enough to be left alone.
'So, yeah, I remembered.'
While I have no problem with tough guys I did find Adam's relationship with ex-flame Robin quite frustrating. She's furious he left; he blames her for not joining him; despite all this, she still wants to jump his bones; then she has to agree to prioritise him above her own needs and her career in order for them to be together. Because that's what a woman in love with a Man does. (There's a very twentieth century feel to this book!)
Final thoughts
This is classic gritty southern gothic. Everyone has secrets and there's plenty happening to keep the twists coming thick and fast. The final reveal came as a surprise to me and I really liked the misdirection Hart employs. There's a strong sense of lives lived under pressure, high stakes and disintegrating neighbourhoods. The family tensions are convincing and, although I saw a major plot twist coming long before Adam, there's plenty of threads to keep readers intrigued.
An easy, entertaining and atmospheric read, which may make you question America's gun laws.
'Down River',
John Hart,
Minotaur Books, 2007, paperback