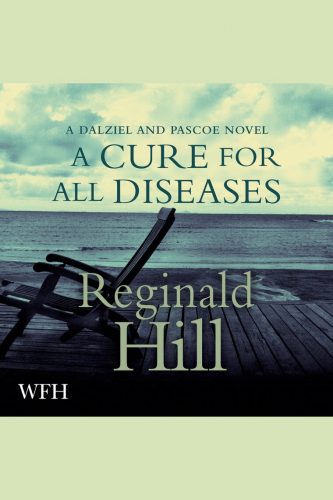 This story brings together two of my favourite kinds of book: crime fiction and anything Jane Austen related.
Now that doesn't mean you need to be an Austen fan to enjoy this 23rd outing in the Dalziel and Pascoe series, but it means there's a treat threaded throughout the story if you are.
What's it about?
Having been badly wounded in the shenanigans depicted in book 22, Dalziel is sent to recuperate at a fancy sanatorium in Sandytown, a town determined to make it's name as a Destination through a focus on Health and Wellness. The oily doctor running the resort encourages Dalziel to confide his thoughts to a recording device and, although originally dismissive of anything that might imply he wasn't completely sound in mind, the recovering detective makes much use of 'Mildred' as he gets to know the local characters. This comes in handy later when one of those characters is murdered…
Meanwhile, Charlotte helps a man who becomes stuck on her father's Yorkshire farmland and is rewarded by an invitation to stay in Sandytown with Tom, his wife and his daughter. Accepting the random invitation largely because her father assumes she won't, Charlotte nonetheless is enjoying her time in the town, eyeing up the local men and writing long emails to her sister about the (rather mundane) day to day happenings, when the murder occurs. Could a crucial clue lie in Charlotte's detailed, chatty messages?
What's it like?
Cosy, chatty and gossipy, with a beginning that will divide opinion and a conclusion that's open to interpretation.
I listened to this as an audiobook, so I was spared having to encounter Charlotte's numerous spelling mistakes, spilling over multiple pages in a spiky font designed to replicate handwriting. It quickly became clear that this was a relaxed tale, full of gossip and amusing observations. While I enjoyed this, it did feel like a very long time before the murder happened, which may leave some readers feeling impatient! (It took several hours of audiobook and I believe 160 + pages in the paperback to reach this point.)
After this, the drama increases, as various police investigators (presumably familiar characters for long term series readers) pursue possible leads and interview witnesses / suspects. I enjoyed the sections following the police officers in particular as it offered a welcome contrast to the epistolary style of Charlotte and Dalziel's sections, which were entertaining but – being recounted in the past tense – lacked a certain tension and sustained a very slow and meandering pace.
Final thoughts
I enjoyed listening to this sprawling tale and think the audiobook narration really helped to bring out the humour of Dalziel and Charlotte's narrations. There are a lot of characters to keep track of but there's so much recounting of who-said-what and what-happened-when that it doesn't matter if the reader misses certain details. Similarly, there are references to events from previous books, but these are sufficiently fleshed out that I didn't feel I was missing anything by not having read the earlier books. The conclusion is rather convoluted – so much so that I've already forgotten much of it –Â  but I've retained an impression of the main characters as interesting and the narrative as enjoyable, so I would probably listen to / read another Dalziel and Pascoe story. (I previously read 'Dialogues of the Dead' and had similar feelings about length / pace / read-alone-ability.)
Mostly I'm now tempted to reread Austen's unfinished novel, 'Sandition', and enjoy a little story mapping!
'A Cure for All Diseases',
Reginald Hill,
Narrated by Jonathan Keeble,
Borrowed from Libby