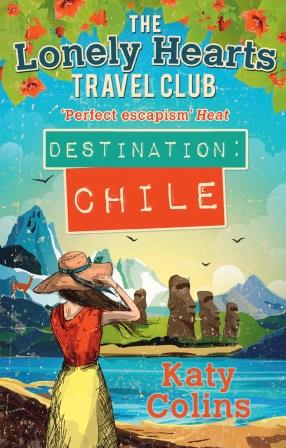 Today I'm welcoming the lovely Katy Collins to Buriedunderbooks to talk about travelling and adventure.
Katy certainly knows what she's talking about. When her wedding plans fell apart, she booked a solo round the world ticket and hasn't looked back. Not content with simply seeing the sights and snapping up some souvenirs, Katy used the opportunity to fulfil her lifelong dream of becoming an author. Billed as 'the backpacking Bridget Jones', she's written three books so far in her best-selling series, 'The Lonely Hearts Travel Club': 'Destination Thailand', 'Destination India' and now 'Destination Chile'.
Over to Katy.
Why It's Ok To Be Terrified of Travelling
When was the last time you felt the fear and did it anyway?
Travel can be one of the scariest, nerve wracking and anxiety causing things you can do. Pre-trip nerves and jitters, doubts and what if moments filling your mind, home sickness and frustration at being miles away from your life back home can all give you the heebie jeebies. Hey, don't put your passport back in the cupboard to collect dust as these feelings are totally normal.
When travelling, and in life in general, it's healthy and actually important to feel the fear, and do it anyway. When I skydived over the sea in France, hiked alone with a male trek guide through the Himalayas and mountaineered up an active volcano in Chile …  yeah I was scared. It's natural when you put yourself in what could be potential danger for your flight or fight senses to kick in. Weighing up the pros and cons of your decisions then rationalising at how ruddy amazing you're going to feel when it is over just brings out the warrior in you.
I can do this.
It is perfectly normal to feel apprehensive before you board that plane, jetting off around the world without fully knowing how you will cope when you land. The thing is though, you will cope. You will learn to find your voice, put your foot down and push yourself to the limit.
It won't be easy. Changing your routine, leaving the comfortable existence of your family and friends to arrive in a country where you don't speak the language, don't understand all their customs and traditions and not know a single soul over there; is always going to be an adventure.
But that is exactly what travelling is. An adventure! Exhilarating, exciting, awe inspiring and incredible. Yes, it's not easy, but who wants easy? You booked this trip, packed that backpack because you wanted the exact opposite of what you know back home. That comfort blanket needs to be shed. You are brave, you are confident and you've got this. Totally got this.
Destination: Chile by Katy Colins is out on 22nd September (Carina, £7.99)
You can find out more about Katy on her blog notwedordead and more about 'Destination Chile' by following the blog tour or reading my review.