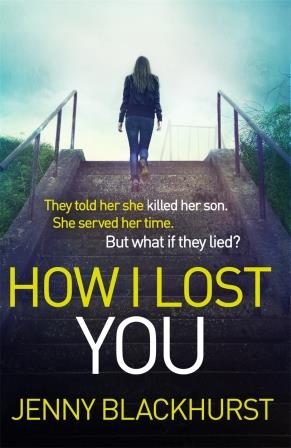 There are some books you know you should own.
Jenny Blackhurst's deeply intriguing debut novel, 'How I Lost You', is one of them. I couldn't fathom how I didn't possess a copy of this intriguing book and was convinced I must have bought one and mislaid it. I was right*; having searched my study for it on several occasions, utterly convinced that it had slipped into some kind of bookish black hole, I eventually discovered that my thoughtful husband had boxed it up with some other books he hoped I would consider consigning to the loft. (We had words. He is somehow not dead still alive. No books have been relegated to the loft.)**
What's it about?
Susan Webster still doesn't remember anything about the day she murdered her twelve-week-old son, Dylan, by smothering him with a cushion. Informed of her guilt by her husband, the police, the doctor and finally the courts, she's spent three years incarcerated in a psychiatric institution and has gradually been taught to accept responsibility for her crime.
Then, within weeks of her release, and despite changing her name to Emma Cartwright, she's stunned to receive a photograph of a smiling toddler called Dylan. Instantly, Susan is questioning everything and everyone involved in Dylan's death and her subsequent arrest. After all, if she doesn't remember killing him, how can she be sure he's really dead? And if he's alive, she needs to get him back.
Determined to discover the truth, Susan seeks help from trusted friend (and fellow former inmate), Cassie, and an attractive reporter who appears out of the blue. But if people lied to her before, how can she uncover the truth now? And what might someone be prepared to do to stop her?
What's it like?
Intriguing. Disturbing. Dramatic.
I loved the central concept and my desire to uncover the truth, though obviously not comparable to Susan's, kept me strongly motivated throughout. This is a book I read in a few days, whenever I had a spare moment, and so I definitely found it compelling.
It's not perfect: Susan's ready acceptance of help from an unknown journalist seemed implausible, as did their insta-romance. (She's spent three years in what's meant to be a tough institution and, while I appreciate she had the more dangerous Cassie protecting her the whole time, she appears to have no difficulties trusting complete strangers.) Similarly, the ultimate explanation behind the photo that causes Susan to start searching felt unconvincing, although I'm not sure what else I might have expected that person to do. (Realistically, nothing at all, which would have meant no story at all!)
What did convince me was Susan's impulsive investigation, based on a couple of odd photographs that could very easily have been nothing more than a hoax designed to punish a baby-killer. Given Susan's lack of memory of events, it's easy to believe she would be desperate to cling onto any possible alternative explanation. It's not surprising that someone would be desperate to believe that the worst thing they ever did was, in fact, not true, especially if it meant their child was still living. Blackhurst includes sufficient hints throughout the story that some details about the event are slightly off-kilter, meaning we trust Susan and expect there to be something to discover, though the rather melodramatic finale may still prove unexpected!
Final thoughts
Alongside Susan's story we are treated to italicised chapters focusing on a group of adolescent boys led by a particularly unpleasant and increasingly powerful individual. The content gradually becomes more and more disturbing, although it is completely unclear how the events told in these extracts can possibly relate to Susan's story until very near the end. Everything is threaded together by the closing pages, which I really liked.
The main driving force in this psychological thriller is the central mystery; if you want to understand how and why Susan lost her son, then you'll likely find this gripping. Be prepared to suspend your disbelief, accept some melodrama and enjoy the puzzle.
And if you've already enjoyed reading 'How I Lost You', then you should definitely check out Blackhurst's excellent second novel, 'Before I Let You In'.
'How I Lost You', Jenny Blackhurst, 2014, Headline, paperback
* This is another excellent CrimeFest16 purchase. So far, so good!
** This is why I love LibraryThing. Most of my books are catalogued on there, which was how I realised that I really did already own a copy. Now if only I'd checked that before heading down to my local bookshop to buy another copy…