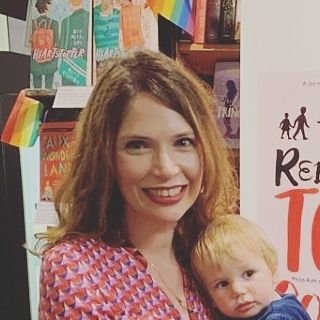 Today I am delighted to welcome Sarah Govett to Buriedunderbooks to discuss her new dystopian thriller, 'We go on Forever'.
I enjoyed this so much that I actually already reviewed it yesterday, but just to recap, here's the premise:
***
Arthur is dying. He must transition within the next four weeks or face permanent memory loss.
Alba is studying, preparing to impress the Mentors in an all-important interview. If she's picked as the next Apprentice she will be reunited with her best friend and cross the Wilderness for the first time.
They meet and everything comes together.
And everything falls apart.
***
Ooh. Honestly. I defy you not to be intrigued here. Wilderness. Mentors. "transition". Then there's that gorgeous cover.
Anyway. The press release describes this book as "A timely and heart-wrenching love story set in a dark dystopian world with echoes of Never Let Me Go and adult as well as teen appeal." I've never read 'Never Let Me Go', (it's definitely lurking in my mental TBR list though!) but can confirm that this was still a great read as an adult, thanks to the simple but horrifying premise and the core innocence of the main characters.
Over to Sarah:
***
Why I wrote We Go On Forever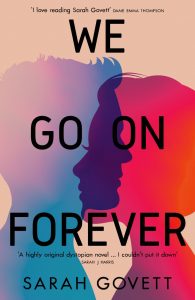 Dystopia has always been my favourite genre, ever since I was a teenager. On a superficial level, these books are fun to read. Typically thrillers with lots of plot twists, life-and-death stakes and an evil regime to overthrow, there's always plenty to keep you turning the pages. However, on a deeper level, the dystopian novels that have had the most impact on me have always offered something more than just a thrill-ride. They've gone deeper. They've gone to the heart of what it means to be human and acted as a vehicle for social commentary – taking some aspect of contemporary society that troubles the author, magnifying it for dramatic effect and then reflecting it back at the reader.
When I wrote my series The Territory, I was writing about the environment and inequality in education – two of my primary concerns. This time I wanted to raise awareness about something else that deeply troubles me: antibiotic resistance. The World Health Organisation describes antibiotic resistance as 'one of the biggest threats to global health' today and says that 'without urgent action, we are heading for a post-antibiotic era, in which common infections and minor injuries can once again kill'. A growing number of infections – such as pneumonia, TB, salmonellosis and blood poisoning are becoming harder to treat as the antibiotics become less effective. The problem is worsening due to overuse of antibiotics in livestock rearing and over prescription.
I wrote this book pre-Covid but edited it during lockdown and it was really disturbing seeing some of the things that I had written about – universities lying empty, people wearing masks – coming true. In the world of We Go On Forever vaccine research has been less well funded, but the elite have their own solution, achieving a form of immortality through the use of human Hosts.
However, We Go On Forever at its heart isn't a pandemic novel. It's a book about the lies we tell ourselves and others and the evil that can be perpetrated if we, for whatever reason, convince ourselves that another group of people is somehow lesser or 'other'. I'm watching a French series at the moment: A French Village – set in war time France – and it's such a powerful and harrowing reminder of how seemingly normal people participated in rounding up Jewish people to be sent East – that they could apply a label to someone and then this would allow them to detach themselves from the horror of what they were doing. It is so important that we always recognise and celebrate our shared humanity rather than look for differences to drive us apart.
We Go On Forever was really fun to write as I hadn't written a dual narrator book before. Arthur and Alba come from such different realities and the truth lies somewhere in the middle of the two. It's a journey of discovery – for the characters and the reader – until they finally meet and everything comes together.
And everything falls apart.
***
Thank you Sarah for those insights into the world of your novel and your motivations. The notion of how easy it is for humans to lose their fundamental humanity comes across sharply, in a world which, actually, is frighteningly easy to envisage – because these are the lies we tell ourselves.
Please note that copies of 'We go on Forever' are available direct from the publisher, Marotte Books, with FREE post and packaging. Moreover, they will ask the author, Sarah Govett, to sign and dedicate copies at no extra cost.
Many thanks to Anne Cater and Marotte Books for providing me with a free copy of this book in exchange for writing an honest review.
Want to know more? Follow the tour: