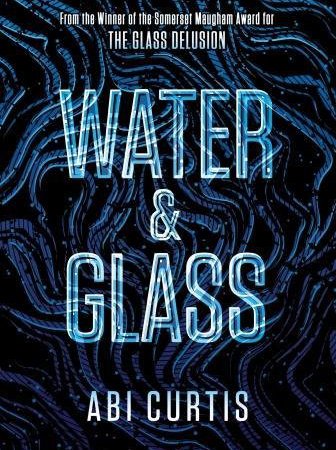 Sea levels have risen. The last ship has sailed. Who gets to decide what we will become?
Water & Glass was always going to be a beautiful novel. Written by Abi Curtis, poet and creative writing professor, it possesses a lyrical beauty that makes reading it a genuine pleasure. The pleasant surprise is that it's also a chilling dystopia, a bit of a mystery and an intensely human drama.
What's it about?
When The Baleen sets sail, zoologist Nerissa Crane has one job: take care of the animals travelling on the ship that will save the last of humanity.
When one of her charges escapes and begins scuttling about the passenger decks she sets out on a mission to find it and in so doing, begins to unearth the secrets of the vast ship.
Today I am privileged to have Abi Curtis visiting BuriedUnderBooks to discuss her debut novel as a work of dystopian fiction. Over to her:
---
Abi Curtis contemplates dystopias and her debut novel
Sometimes I think we are already living in a variety of dystopias. We witness on the news, or in our own lives, disasters both environmental and political, on a daily basis. We read about floods and hurricanes; refugees trying to escape repressive regimes and families separated; children going hungry and homelessness.
Water & Glass is an environmental, dystopian novel in the sense that the narrative is instigated by a catastrophic, world-wide flood. But I wanted to use this concept to explore a range of things. I wanted to create a sense of elegy for the life 'before', whilst at the same time celebrating what we currently stand to lose.
I found that the sea can be a beguiling and mysterious place in fiction
Understated, but quietly devastating texts such as Nevil Shute's On the Beach (1957), or Station Eleven (2015) by Emily St John Mandel were strong influences – they show us what we have to lose, but also explore the beauty of that changed world as nature reclaims the landscape. I found that the sea can be a beguiling and mysterious place in fiction, as it is in say Moby Dick (1851) by Herman Melville, or Kraken (2010) by China Mieville.
I was also inspired by real events, such as the flooding that happens in York, where I live, each year. A particularly bad flood a couple of years ago caused a lot of disruption to lives and businesses, but the medieval city, half-submerged, was hauntingly beautiful too.
Environmental dystopias ask us to re-evaluate and respect our relationship with Nature
I think dystopias are interesting because they feel like visions of the future, but strongly reflect the present, and even the past. They ask us to pay greater attention to what we are heading towards. Environmental dystopias ask us to re-evaluate and respect our relationship with Nature, to see how we might prevent a possible future that we might be heading towards.
Margaret Atwood also suggests the notion of an 'Ustopia' – the idea that dystopias and utopias are flip-sides of one another – you can't have one without the other. My future, flooded world is perhaps dystopic to humans, but utopic for wildlife and for an earth reclaiming itself.
Water & Glass by Abi Curtis is out now (£12.99, Cloud Lodge Books)
---
Many thanks to Abi Curtis for taking the time to visit BuriedUnderBooks. My review of Water & Glass will be posted soon.
Want to know more? Follow the tour:

Many thanks to the publishers for providing me with a free copy of this book in exchange for a spot on the blog tour.