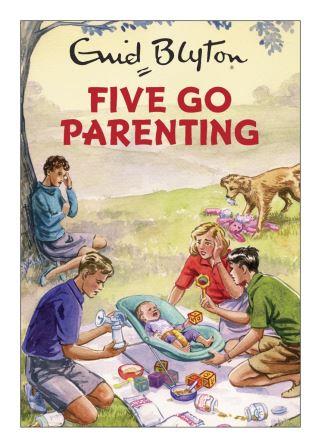 Five Go…Parenting?
If you're at all familiar with Enid Blyton's Famous Five books, then the title above is likely to give you pause. I've not spotted these in the shops (which tells me I've spent too little time browsing books lately!) but I imagine they occupy a similar POS to the new Ladybird 'How it Works' books ('The Mum', 'The Husband', etc.). I picture them piled up by the til, the perfect impulse purchase and stocking filler.
This is one of five books in Quercus' Enid Blyton for Grown-Ups series, a collection which aims to entertain nostalgic readers by embroiling the (now grown-up) Famous Five characters in modern, adult "adventures", including 'Five Go on a Strategy Away Day' and 'Five on Brexit Island'.
The cynic in me thinks this is nothing more than an attempt by Quercus and actual author Bruno Vincent to cash-in on Enid Blyton's popularity and gain a few easy sales, but the reader in me hoped for a genuinely entertaining look at parenting / a pleasant trip down memory lane with the Famous Five.
What's it about?
Remember the adventures of the famous five? They were a group of crime solving tweens investigating dastardly local goings on with the help of their dog, Timmy. Adventures typically involved large country houses and secret passageways and culminated in the police arresting snarling adults who'd been up to no good.
Sadly, there are no secret passageways here, even when Dick and Julian are desperate to escape to the pub. There have been dastardly goings-on, but the story opens on a quiet moment when the culprits are already in jail and the five are surprised by a knock at the door. It's someone called Wendy, who is presumably involved with social services, and who hands over a small baby after signing some forms in quadruplicate.
Faced with a small baby who cries incessantly, George, Julian, Dick and Anne are soon forced to organise shifts to look after her. Can they handle this adventure? Or do they need to call in the professionals? (I'm sure you can guess the correct answer!)
What's it like?
This was a Christmas gift and I can see why it was chosen for me: I loved Enid Blyton's books as a child and generally have a good sense of humour. I also have three very young children, so like to read books about parenting and ought to be able to appreciate the scenarios depicted within.
Unfortunately, for me, this fell rather flat. I could see where the humour was meant to be found – there's the horrors of projectile poo, the dire revelations of Dr Google, the ridiculous boasts of competitive parents and the obsession with finding a Good School – but I barely cracked a smile. To me, the over-the-top exaggeration just wasn't amusing. For instance, when they discover they are not allowed to go to the pub for the foreseeable future:
'Dick and Julian gaped at each other. Here was a horror that went beyond human understanding.'
Really? I would question whether my own sleep deprivation is to blame for the lack of laughs, (I could certainly empathise with George, Julian, Anne and Dick's exhaustion and frustration,) except that the day before I read this I devoured another humorous / parenting book in just over 24 hours and giggled out loud all the way through. So, possibly but not likely.
Final thoughts
This isn't a bad book; it just didn't tickle my funny bone.
Personally I also found it odd that the publishers have opted to use pictures from the original books randomly scattered throughout this book. I suppose it does help evoke the spirit of the series, but they didn't match with the captions underneath them and they weren't used in chronological order, so there were essentially random images and random quotations scattered throughout the story.
Truly committed fans of the series may enjoy a glimpse into the lives of the grown up adventurers (there are a few wry nods to the original books, including the chapter headings) and new parents may find a chuckle or two, but I found it a bit disappointing.
'Five Go Parenting' (Enid Blyton for Grown-Ups),
Bruno Vincent,
Quercus, 2016, hardback