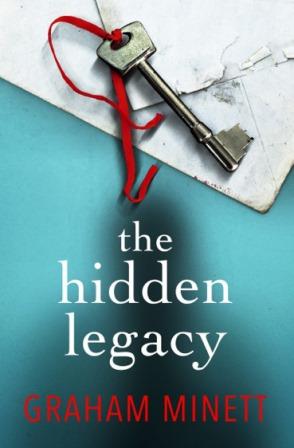 Secrets. All families have them.
If you could choose, would you want to know your family secrets? Or would you rather seal any hints in a box you never open? This is Ellen's dilemma.
What's it about?
Mother of two, recently divorced Ellen Sutherland is stunned when she's left a valuable Cotswold cottage in a will. Who was Eudora Nash? Why would someone Ellen has never heard of choose to leave her anything, let alone her home? Ellen's family background has always contained some blanks, things her mother refused to discuss; now her mother is living in a nursing home and suffering from dementia, and Ellen has a chance to find out the secrets that have been hidden from her all her life. But does she really want to know? After all, once you know something, you can't unknow it.
But Ellen isn't our only protagonist. In 1966 John Michael Adams walked into a school playground and set fire to two teenage girls. One died. The media decided he was evil personified and hounded him relentlessly (think of the treatment meted out to Thompson and Venables). One journalist in particular thinks he can play God, but there are consequences he didn't anticipate when he tried to open old wounds years after the event.
What's it like?
Quietly engrossing. There's a dramatic opening chapter, in which we witness John Michael Adams' shocking act, without being privvy to his motivation. The closing moments of this chapter are stunning – it's not surprising to learn that it won a competition – and this act hangs over the entire book in much the same way it hangs over the lives of the characters involved: ever present and in constant danger of stifling all hope of better things.
Minett writes in some detail about moments that don't necessarily contribute to the plot and, while I quite liked these little domestic flourishes, I can think of some readers who would lose patience. If that's you, you might not like the gently evolving denouement either. I did, and felt the whole book was a snuggle-up-with-a-cup-of-tea-and-some-biscuits-and-a-blanket type affair.
From chapter two onwards we primarily follow Ellen's perspective, which, given her steady and thoughtful character, creates quite a sedate pace for a book billed as a domestic thriller. Don't mistake me; this is subtly, quietly gripping, and I read the whole book in a matter of days, often staying up far too late to read 'just one more chapter', it just doesn't 'fit' in my mind with other so-called domestic thrillers (I'm thinking primarily of 'Gone Girl' and 'Before I go to Sleep'). This is possibly because the danger Ellen courts is external – essentially, it's the attention of the media and narrow-minded neighbours – and internal – her own peace of mind, sense of self and ordered existence – rather than 'domestic' (after all, she's already ditched the useless hubby, and he's more likely to forget to water her plants than set her up for murder). Furthermore, rather than the huge sudden shock twists you might find in that genre, almost everything here is well signposted or very guessable and so you discover the connections slightly ahead of Ellen, allowing you to focus on her response rather than your own.
What's to like?
I really enjoyed following events from Ellen's perspective. She's a clever, in control woman who sees through tricksters and manipulates them just enough to gain the information she needs. Her relationships with her children, best friend and co-workers are all convincingly realised and developed with what I thought was just the right amount of detail.
The central concepts are fascinating: would you want to know all your family's secrets? How do you respond to a man who murdered a child when he was a child himself? In the latter case, Minett gradually feeds the reader information that encourages us to recognise the pressures acting on JMA as a young teenager, but there's no way to escape that initial, terrible act. How, then, do you ever move forwards?
I cannot emphasise how much I appreciated the fact that there's no romantic angle here. Instead of attempting to shoehorn a fledgling romance into what is primarily a journey of self-discovery, Minett is content to show us Ellen interacting with her children, her ex-husband (and no, she isn't still pining over him) and her best friend. I love that this is a portrayal of a genuinely independent modern woman and wish there were more authors willing to resist the lure of bunging a bonus romance into any book featuring a single woman.
Final thoughts
This is a great story of a personal journey featuring an intelligent, capable and likeable protagonist. There's drama that keeps you gripped but it's never over-the-top or ridiculous, the story centres on intriguing and difficult questions without generalising or sermonising, and the ending leaves plenty to think about. Don't be swayed by the domestic thriller label into expecting a heroine who'll suddenly start breaking into houses or risk being murdered by her nearest and dearest; do read it if you like the idea of secrets gradually revealed (the comparison to Lianne Moriarty is apt) and lives irrevocably changed; it's beautifully handled and enjoyable to read.
'the hidden legacy',
G.J. Minett,
2015, Twenty7 books, ARC
Thanks to the publishers for providing me with a free copy of the book in exchange for an honest review.