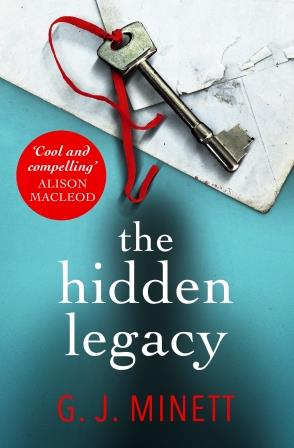 Recently I reviewed the beautifully handled debut novel that is G. J. Minett's The Hidden Legacy.
Even more recently, I have had the pleasure of quizzing the author about his work, so if you liked the sound of the book but haven't yet picked it up, or loved it and can't wait to read more by Minett, here's a chance to discover some 'behind the scenes' info about the story's creation and the author's approach.
——————————————————————————————————
E.H:
Congratulations on the publication of your debut novel, The Hidden Legacy. I thoroughly enjoyed reading it and am looking forward to reading more of your work in the future. I loved your central character, Ellen. She's independent, clever and very able to recognise and handle people who attempt to deceive her. What made you decide to give her such a feckless ex-husband?
G.J. Minett:
Ha ha! I love the word feckless. That's just about the perfect word for Jack, bless him. As with most of the characters in the book, my starting point was Ellen herself. I needed each of them to bring out an aspect of her own character and in Jack's case he is there principally to exasperate Ellen and put obstacles in her way. I don't see him as unlikable, if I'm honest. He's one of these hopeless dreamers who are not very good at accepting responsibility and are always quick to lay the blame for their own failings at someone else's door as they breeze through life. Commitment to anything is an entirely foreign concept for him. But he's not without his positive qualities, and this was important if Ellen was going to be attracted to him in the first place. He does love his children and tries to play an active role in their lives, rather than using the divorce as an excuse to draw a line under things. It's just that he's always going to be 16 and expecting things to be served up on a platter. His sense of entitlement is something else!
E.H:
Yes it is! Obviously using the word 'legacy' in the title of your novel draws attention to multiple types of legacy explored within, but the central, physical legacy is a house. What motivated you to make this part of Ellen's inheritance?
G.J. Minett:
I wanted something that would pull Ellen out of her environment – I almost said comfort zone but the first few chapters demonstrate quite clearly that the life she's currently leading is anything but comfortable. I could have gone for a sum of money or a valuable painting or something of that sort but the cottage was an attractive option because it takes her away from where she has lived all her life (even her degree was at Sussex University) and into an area she's never visited and where she knows no one . . . where any support structures she relies upon are of no use to her. In a situation such as that, it's more likely she will feel uncomfortable and even threatened by events as they unfold, which is the challenge I wanted to place in front of her.
I was also attracted to the idea of setting a substantial part of the story in a Cotswold village. My grandparents lived in Stanton where my gran ran the village post office and it's a place where I spent a lot of my childhood holidays. Anyone who knows the village will realise that Oakham is modelled on it to some extent although some of the geographical features have been altered slightly. I hope they don't go in search of the cottage though because that came entirely from my own imagination.
E.H:
The opening chapter is stunning – as I'm sure you've been told many times! I'm aware that you originally wrote it as part of your MA course; did you already have the rest of JMA's story in your mind at that point or did all that – his motivations and subsequent history – evolve later on?
G.J. Minett:
Thank you very much for your kind words about the opening chapter. It has garnered quite a bit of attention and whatever changes were made to the first draft during all the editing the novel has been through, this is one part which has come out relatively unscathed.
At the time when I wrote it my main aim, as you rightly point out, was to produce an MA assignment, which was entitled Launching The Manuscript. If it hadn't been well received at the time, I might never have gone any further with it but for the final dissertation we were encouraged to pick up where we'd left off and produce another couple of chapters. Then, when it won a national competition for opening chapters, I had some serious thinking to do as to how I should build upon it.
I was already clear in my own mind that I wanted Ellen to be the main focus of the novel.
I was already clear in my own mind that I wanted Ellen to be the main focus of the novel. This meant I had to do some detailed planning to map out JMA's history and Eudora's too, in order to bring the different timelines of the story together and it was during this planning stage that my awareness of some of the issues in the book began to evolve. I certainly didn't set out to provoke any sort of debate about the merits or otherwise of rehabilitation, the role of the media in shaping public opinion, the importance of family, whether it's sometimes better to accept a few gaps rather than insist on answers to everything. It's just that the more I tinkered with JMA's character and the reactions he provoked in those around him, the more these ideas came to the fore. It really did need a lot of attention to detail but it was worth the effort. I'm pleased with the way it all worked out.
E.H:
On my proof edition, you are G. J. Minett; on the final cover design you have become Graham Minett. Is there any significance to this change? Although the novel features three distinct perspectives, the central voice is female, and of course you are male…was G. J. an attempt at disguise?!
G.J. Minett:
Just to clarify one point in your question, it was the initial cover release for The Hidden Legacy that had my full name and the decision was then taken to move to GJ, which appears on the uncorrected proof and also the final version for the eBook, rather than Graham. The change was recommended by the sales and marketing people at twenty7 but they were kind enough to enlist my support for the idea rather than impose it.
[the publishers] feel that GJ Minett has a certain ring to it
There has never been any serious attempt to disguise the fact that I'm male. If that had been the reason for the name change, I'm sure I would have been asked to remove the hopefully unambiguous photos of me on my twitter and facebook pages, and to amend the website which is nearing completion. It was simply part of a much larger picture, their preparations for the publication of the paperback next summer which will see another new cover design as well. They feel that GJ Minett has a certain ring to it, is more of an impact name than the full one and I'm more than happy to be guided by them on any matters where they have all the experience and I have none. They haven't put a foot wrong so far and besides . . . it doesn't seem to have done any harm to SJ Watson, VS Naipaul, DH Lawrence, GK Chesterton etc.
E.H:
Ha! True, and I think they're right about the 'ring'. You make it very clear in the novel that Ellen has choices: a choice to walk away, to opt for not knowing, or the choice to delve deeper. If you were in a similar situation, what would you do? Has writing Ellen's story affected your instinctive opinions?
G.J. Minett:
I think I'd have to dig deeper. It's so hard to be sure about how I'd react because my family circumstances couldn't be much more different from Ellen's but I do tend to get a little obsessive about things and I can't imagine being in a situation where I long for answers and know they may be available but then simply walk away from them. I also know myself well enough to be sure I'd be riddled with anxieties about the whole process but I think I'd have to go through with it.
I've said in previous interviews that even though I've gone for a female lead in The Hidden Legacy there are a few similarities between Ellen and me. I'd say her response here is one of them.
E.H:
I've seen on your website that your next novel is titled The Goose Drank Wine, which is certainly intriguing! Should readers who enjoyed The Secret Legacy expect similar themes to be explored or do you feel it's heading in a completely different direction?
G.J. Minett:
The primary aim…is to come up with a story people will want to read and characters about whom they will care.
The Goose Drank Wine has already been written and had its first edit and second re-write so it's near enough to completion for me to say with some certainty that the themes are not the same. As with The Hidden Legacy, I didn't set out to make the second novel into an 'issues book' but it's almost inevitable that characters, as they develop, will bring their own baggage with them so there should be plenty for readers to get their teeth into. For obvious reasons I'm reluctant to go into too much detail at this early stage but I'm hoping that readers will find themselves intrigued by the central characters and engrossed in the plot as it unwinds. The primary aim, as with The Hidden Legacy, is to come up with a story people will want to read and characters about whom they will care. The issues are there to bring out the characters, not the other way around.
E.H:
Well, you certainly succeeded in that aim (I've already said how much I like Ellen!) Thank you for your time.
G.J. Minett:
My pleasure!
——————————————————————————————————
Many thanks again to G.J. Minett for taking the time to answer my questions so thoughtfully.
Now I just need to keep an eye out for the release of The Goose Drank Wine. (Yes, I am a sucker for intriguing titles, especially when they're coupled with authors I like.)
Have you read The Hidden Legacy? What questions would you want to ask its author?
 
The Hidden Legacy by G.J Minett came out in ebook on 5th November and will be released as a paperback in 2016 (Twenty7).