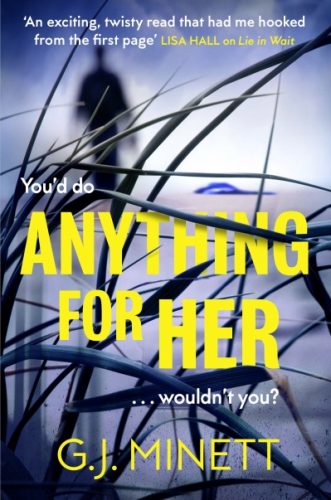 Today I am delighted to welcome top writer and all round lovely bloke G. J. Minett to the blog to discuss his books, characters and future plans.
---
The blurb for Anything for Her tells us that:
You'd do anything for the one that got away . . . wouldn't you?
When Billy Orr returns home to spend time with his dying sister, he bumps into his ex-girlfriend Aimi, the love of his life. He might not have seen her in eleven years, but Billy's never forgotten her. He'd do anything for her then, and he'd do anything for her now.
When Aimi tells him that she wants to escape her abusive husband, Billy agrees to help her fake her own death. But is she still the Aimi that Billy remembers from all those years ago?
Once Aimi disappears, Billy has to face the possibility that perhaps she had different reasons for disappearing – reasons that might be more dangerous than she's led him to believe . . .
Sometimes trusting the one you love is the wrong thing to do.
---
Intrigued? I bet you are. So without further ado, here's our chat as part of Graham's blog tour for his third novel, Anything For Her.
E.H:
Welcome back to Buried Under Books, Graham.
How does it feel to be publishing your third book? Do you feel like you now have a fully honed method of working – of "developing" your stories – or does your method change each time in response to the demands of the different stories you tell?
G.J. Minett:
I don't think I'm ever going to be blasĂ© about the release of a new book because even as recently as three years ago I still didn't have a publishing deal for my debut novel, but I'm maybe a little less manic this time around. I know what to expect now – I still celebrate wildly with every 5* review that comes in but have learnt to be more philosophical about the occasional negative one. It takes a while to realise that you can't ever hope to please everyone. Instead of fretting over things, I've taught myself to appreciate the fact that I have managed to establish a loyal following of extremely supportive readers who look forward to the next book, which is all any writer can ask for really.
I do feel like I've found a method which works for me now. I approached the writing of 'Anything For Her' in exactly the same way as I did its two predecessors and am even now at work on book 4, which is following the same pattern. I'm on a schedule for one book every 12 months but the actual writing is compressed into 3 or 4. The major part of that year is taken up with identifying the main character and finding the right storyline to explore her/his weak spots. It's served me well so far, so I'm happy to trust it.
E.H:
It sounds like you're a planner rather than a 'pantser' then!
All your books to date are, at their heart, about secrets and who people can trust. Are you a trusting person yourself or are you naturally suspicious of people's intentions? I would guess that as a former teacher you're well used to students trying to pull the wool over your eyes…
G.J. Minett:
Am I naturally suspicious? No, I don't think so. Teaching for that length of time certainly opens your eyes to the lengths some people are prepared to go to and I have a fairly well-developed b******t detector but I like at least to start out by believing someone is genuine. I do enjoy writing about the problems people cause for themselves by not telling the truth or facing up to consequences.
E.H:
I love the way your characters reflect on language. (Billy's early reflections on Ashford International amused me.) Do you find you agonise over the right vocabulary choices as you write or do you instinctively find yourself grasping the right words and phrases you want to convey each character's personality and feelings?
G.J. Minett:
I'm so pleased you picked up on this because I work very hard at it and take great pleasure from the way some sentences come together. Occasionally it's instinctive and I manage to produce a sentence or even a whole paragraph with no real understanding of where it came from. That's when writing is a real pleasure. Most of the time however, it's a matter of pushing groups of words and phrases around on the page until they feel right and that I suppose is a 'touch' thing. You know once it's right, even if you can't explain why.
In the case of the example you've quoted, I'm so pleased you enjoyed it. I was a bit distracted while writing that early chapter and found myself wondering why it's Ashford International and not International Ashford. I decided that if something so mundane could occur to me, it could do so to Billy too, so I let him run with it for a while. At the same time, as well as hopefully raising a wry smile from some readers, it gave me a chance to illustrate the importance that Ashford, and the station in particular, assumes in Billy's mind because it provides an early hint that there is something a bit different about the way his mind works.
I just hope the people of Ashford don't take it personally. I'm not Billy, folks!
E.H:
I'm sure they won't! So far your stories are gripping, tightly focused domestic thrillers, character based rather than dependent on shocks and twists – obviously there ARE shocks and twists, but they work perfectly with your story and never exist purely to up the thrill level. Do you ever feel a hankering to write something completely different?
G.J. Minett:
Again, I'm pleased you recognised that they're character based. Character comes first for me – the plot comes from identifying the Achilles heel and exploiting it in some way. For that reason I work very hard in an attempt to avoid ridiculous coincidences or contrived passages which are clearly designed to cover plot holes, because I want readers to identify with the characters and feel this could actually happen to them. I always try to provide a few twists that will take the reader by surprise – a lot of reviewers have been very kind about the shock ending in Anything For Her for example – but as a rule my aim is to reflect everyday experience wherever possible.
As for writing something completely different, I'd love at some stage to use a broader canvas and write something other than psychological thrillers but I don't see that happening for some time yet. These first couple of years have been about building up a network of readers and reviewers who enjoy what I write and to branch out suddenly in a different direction would feel ungrateful, I guess. Thanks for what you've done for me – time to move on. Also I don't imagine my publishers would be very happy to move away from our current model while it's still successful, so no . . . not for a good while yet.
E.H:
That makes complete sense, though I'm sure many of your loyal fans will be excited whenever you opt to move towards a broader canvas. In the meantime, how would you describe Billy in three words?
G.J. Minett:
Wounded.
Sharp.
Suspect.
E.H:
Intriguing!
You mentioned earlier in the tour that your next book involves some scenes set in an 11-18 school. Is this nostalgia? Do you find you miss teaching? And can you reveal anything more about your next book?
G.J. Minett:
Do I miss teaching? Not at all. Do I miss contact with the students and especially the colleagues I worked with? Absolutely. I got to work with some wonderful, committed people and felt valued. Writing is a much more individual pursuit so there might have been a few problems in adjusting to 'retirement' but the moment I first walked into the offices of Bonnier Zaffre I knew there was no need to worry. You can't spend so much time in the company of people such as Chris Whitaker, Gayle Curtis, Aisha Malik and Alex Caan and feel remotely isolated!
The next book? Still very early days but the planning is almost done so I should start writing at the end of the month. That gives me three months to get the first draft to my editor. It has a working title of The Wake-up Call but that means nothing – none of my three books to date has managed to keep its original title. As for what it's about, Lucy is trying to convince herself she's confident about her partner, Michael. Then she starts receiving messages, asking if she's sure where he is right now. Can't tell you any more than that – you'll need to wait till the summer of 2019.
E.H:
Gosh, that feels a long way away, though maybe less so for you with your deadlines! In the meantime, there's three excellent stories for readers to enjoy: The Hidden Legacy, Lie in Wait and, of course, Anything for Her.
Finally thank you so much for visiting Buried Under Books and making the time to answer my questions. I am very much looking forward to reading the rest of Anything for Her, and discovering what The Wake-Up Call becomes.
…
Want to know more?
You can read my previous interview with Graham here or find reviews of The Hidden Legacy and Lie in Wait here and here.
Or you can follow the blog tour: