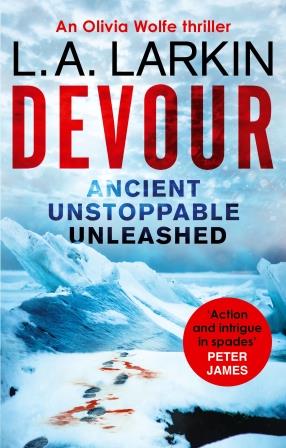 Ancient. Unstoppable. Unleashed.
This might initially sound like a strap line more suited to a fantasy novel, or perhaps one set in ancient Egypt, but this is a thriller firmly rooted in a very modern and deeply frightening scenario.
I'm delighted to be hosting a stop on the blog tour for L.A. Larkin's 'Devour', an action thriller which introduces journalist Olivia Wolfe and a veritable host of threats to her life.
What's it about?
Murder, conspiracy, politics, secrets and lies. Olivia Wolfe is used to minding her back and hunting down the truth in war zones, but when we meet her she's become personally involved in a case, which leads her editor to send her to the Antarctic to report on a science story and gain some distance. Unfortunately for Olivia, the phrase "out of the frying pan and into the fire" has never been more apt.
It seems someone may be sabotaging the scientists' research, and they won't tolerate Olivia getting in the way. From Antarctica to Cambridge to Las Vegas, Olivia's search for the truth becomes a hunt for a person prepared and equipped to end civilisation as we know it. Can she really save the world? She's certainly going to try.
Not enough drama for you? Olivia also has her very own stalker, which could be any one of a number of people she's infuriated over the years – including her own estranged and imprisoned brother.
Opening sentence:
'On the flat, featureless ice sheet, katabatic winds swoop down the mountain slopes, whipping up ice particles and hurling them at a solitary British camp.'
Ok, so I had to look up a word in the very first sentence of the book, but I didn't find this off-putting. I loved the violent energy and brutal isolation evoked in this and subsequent sentences which set the scene by likening the settlement to a monopoly board.
Excellent opening. 10/10.
What's it like?
Exciting. Gripping. Chilling. The story opens with two murders on two continents and the pace barely slows after that hectic opening.
The "quietest" period of the book occurs while Olivia is in Antarctica, but there's still constant intrigue: suspicions of tampering with equipment, the excitement of the scientists' discovery, and a tense visit from some Russian scientists, to name a few key events.
Throughout the story the tension remains high as Olivia increasingly careers from one fraught situation to another, gradually realising the full consequences at stake.
This isn't a book for the faint-hearted but it is a gripping thriller.
"Like so many scientists before them, the Lake Ellsworth team never questioned what they were doing. Too wrapped up in a quest for glory, too obsessed with proving they could, rather than considering whether they should."
Final thoughts
This is a tremendously satisfying action thriller which introduces a character I'm looking forward to seeing more of, though, as is the case with many characters and stories like this, I do wonder how much more personal trauma the author can throw at their poor heroine!! Judging by the narrative threads left open at the end of this story, an awful lot!
I really enjoyed the way Larkin uses names. The narrative consistently refers to characters by their surnames – Wolfe and O'Leary, for instance – but when the characters are speaking they naturally use each other's first names – Olivia and Daisy, for instance. It's a minor detail but it helped create the ambience of threat and danger by keeping the reader on a less personal footing with the characters than they were with each other.
A thrilling opening, a fascinating and thought-provoking visit to Antarctica, a dramatic and constantly evolving plot and an exciting denouement with just the right amount of resolution combine to make this an excellent thriller with a central character I look forward to meeting again and again.
Olivia Wolfe, get some rest. I've a feeling you're going to need it.
'Devour',
L.A, Larkin,
2017, Constable, paperback ARC
I'm delighted to be part of the 2017 #DevourTheBook blogtour. Want to know more? Why not follow the tour?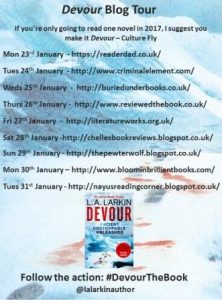 Many thanks to the author and the publishers for providing me with an advance copy of this book in exchange for an honest review.