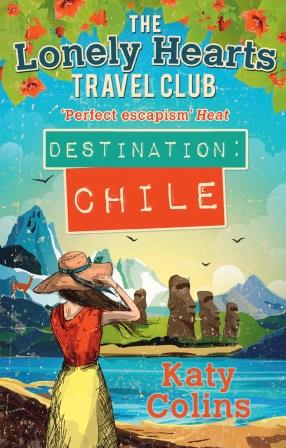 Reality TV is inescapable, it seems.
If I'm not being coerced into watching it by a husband who's convinced snuggling in front of the TV together is top-quality couples time, it's sneaking into the books I read! In the third instalment of Katy Collins' popular series 'The Lonely Hearts Travel Club', Katy explores what happens when a couple with differing priorities enter a televised competition filmed in Chile.
What's it about?
Georgia and Ben have just moved in together (they're still unpacking), so she's stunned to discover an engagement ring lurking in her boyfriend's belongings. Georgia's been engaged before – and been brutally ditched before her wedding –Â so she's naturally wary of taking such a large step. Should she be bolder? Clearly Ben thinks they're ready, even if a trip to Ikea has caused a table-shaped dent in their newly discovered domestic harmony.
This couple also run a business together, so there's plenty of potential for friction, especially when they're introduced to the three other couples competing for the cash prize Ben believes their business so badly needs. As for the other couples, it's quickly clear that Ben and Georgia might not be the only couple with problems…
Can they win the competition? Can they agree on a way forward for their business and their relationship? And what will happen to these four couples in rugged Chile?
What's it like?
It's classic chick-lit peopled with a typical cast of characters: an anxious heroine who's not sure if her partner is really Mr Right, a couple of best friends whose 'help' can lead to trouble, and a leading man who refuses to talk about the important parts of his past. Add in a couple of glamorous TV people (the gorgeous female presenter, of course, prefers to recognise Ben's presence if she can avoid acknowledging Georgia's existence) and a father who knows he's failed his son, and there's plenty happening to keep the story ticking along.
It's the classic relationship struggle where both partners make mistakes (she reaches assumptions that cause friction; he refuses to discuss the causes of the friction) and have to be prepared to say they're sorry if their relationship is to survive. There're a few diversions into the other couples' problems, which helpfully reassure Georgia that her potential Mr Right is at least not Mr Scam-artist, Mr Put-Upon, Ms Gold Digger or Mrs Impossible-To-Satisfy.
I'm not convinced that the definitions at the beginning of each chapter really added anything to the book, and the birthing scene was rather clichĂ©d, but I can completely imagine this as a film and understand why one reviewer nicknamed Collins 'the backpacking Bridget Jones'. This worked well as a standalone book – I never felt like I was lacking any information from the previous books or that I was being fed information purely to 'catch me up' – but I imagine fans of the series will find it more enjoyable as they will already have a lot invested in these characters.
Final thoughts
The activities in Chile, and indeed the descriptions of the setting and culture, are mildly entertaining and it made a refreshing change for me to read a story where no-one was murdered or even mildly tortured. Indeed, Georgia informs us that, 'This was worse than waiting to find out who was being voted off The X-Factor.' so I can only agree with Heat magazine's assessment that this is 'perfect escapism'.
Want to know more? Katy Collins recently visited Buriedunderbooks to talk about travel or you can visit her blog notwedordead.
'Destination: Chile' (The Lonely Hearts Travel Club),
Katy Collins,
2016, Carina, paperback
Many thanks to the author and publishers for providing me with a free copy of this book in exchange for an honest review and spot on the blog tour.