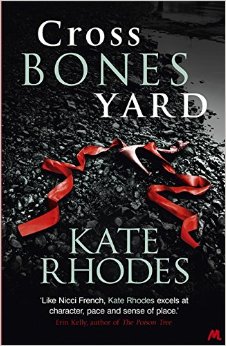 Sun, sea and sand. What more does a good holiday need? A psychological thriller, of course.
And maybe some wine. Ok, definitely some wine. And a babysitting service, so you can actually read the slightly ridiculous perfectly reasonable stack of books you packed. Fortunately, my Cornish holiday included all of the above, so I was able to enjoy the treat that is Kate Rhodes' debut crime novel, 'Crossbones Yard'.
What's it about?
Alice Quentin is a busy psychologist with a back story her own colleagues might enjoy analysing – an abusive father, a manipulative mother and a deeply troubled bipolar brother. One evening, whilst running, she discovers a woman's body in Crossbones Yard, an old burial ground for prostitutes. This incident leads to her becoming involved with DCI Burns and DS Alvarez, who want her expertise to help discover the killer.
This is particularly urgent since the crime itself bears a striking resemblance to a previous series of murders by a married couple who owned a local hostel. Could there be another serial killer on the loose?
However, it seems that it's not only the police who want Alice; the killer wants her too, and the answers she's seeking may be frighteningly close to home…
What's it like?
'[He] held them there for a long time, as though they were kittens he needed to drown.'
Very well-written with consistently dark imagery employed throughout. Alice perceives the world around her as grey and threatening: the apostles at St Paul's 'seemed to be eavesdropping on the sightseers' conversations'; one distressed character pushes a photograph of people into a table and 'held them there for a long time, as though they were kittens he needed to drown'.
'Crossbones Yard' is easy but enjoyable to read because the characterisation and dialogue are usually so well-handled. Alice is convincingly damaged – fragile yet strong, she makes an effective first person narrator, even though her actions and convictions often cause the jaws of the police officers to drop. She understandably chafes at the restrictions placed on her freedom and is not prepared to sit and do nothing.
What's not to like?
Mmm. I had some minor niggles. The killer's behaviour towards one of his victims felt a little perfunctory. Alice is very ready to take the blame for everything the killer has done upon herself, which is understandable (given her history, not the killer's,) but also frustrating.
A few of the characters are perhaps a little clichéd, from the carefree actress / singer / party girl Lola (presumably introduced as a character in this book primarily to draw another potential male suspect into Alice's small world) to the obese, work-obsessed DCI Burns who somehow always manages to wheedle one more favour out of his pet psychologist.
Most annoyingly, I wasn't at all convinced by the villain. I was at an absolute loss to understand what the killer's motivations were meant to be and there was no real explanation given. It seemed readers were meant to believe the killer had simply become 'unhinged' or 'deranged' through a combination of professional and personal circumstances, but the rationale behind that was weak.
Final thoughts
I do admit, I rather like endings where you gradually realise whodunit, then get their backstory in some form or other. Done badly it can be tedious and repetitive, but done well it neatly ties together the overall package. The crime and the criminal are solved. In 'Crossbones Yard' Rhodes suddenly reveals the killer and silences him in almost the same moment; her heroine reels, asks a few questions at an opportune moment and reflects on how stupid she's been, then starts to move on.
'Readers will care as much about Alice as they do about identifying the murderer.' – Sophie Hannah
I'm always a little wary of crime novels and series where the reader is meant to bond with the key protagonist as much if not more than focusing on the crime itself. It's the motivations of the victims and villains and solutions to the crimes I find fascinating, not the private lives of the investigating personnel.
However, Alice's personal life is sufficiently relevant to the novel's criminal focus for me to have really enjoyed reading this book and I would definitely try another in the series (there are four so far: 'Crossbones Yard', 'A Killing of Angels', 'The Winter Foundlings' and 'River of Souls').
Overall, Rhodes effectively combines a vulnerable but determined protagonist in a convincing setting with an intriguing and fast-paced plot. More of a crime thriller than a psychological thriller, perhaps, but still a gripping read which I really enjoyed.
'Crossbones Yard'
Kate Rhodes
2013, Mulholland Books, paperback