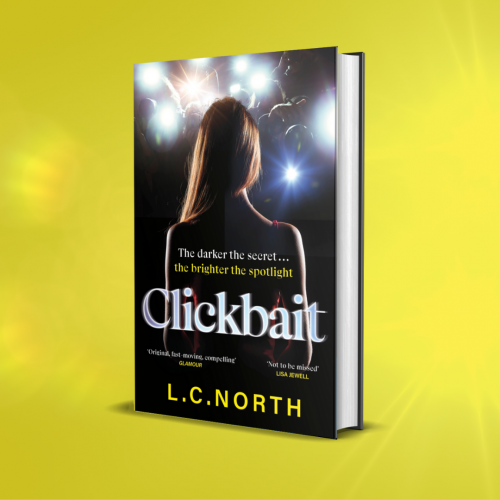 Today I'm excited to be part of the cover reveal for L. C. North's new thriller 'Clickbait'
 Isn't it pretty? But of course, we shouldn't judge a book purely by its cover, so here's the blurb to tempt you further:
'Äč———————————
'We're not famous anymore. We're notorious.'
For over a decade, the Lancasters were celebrity royalty, with millions tuning in every week to watch their reality show, Living with the Lancasters.
But then an old video emerges of one of their legendary parties. Suddenly, they're in the spotlight for all the wrong reasons: witnesses swore they'd seen missing teenager Bradley Wilcox leaving the Lancaster family home on the night of the party, but the video tells a different story
Now true crime investigator and YouTuber Tom Isaac is on the case. He's determined to find out what really happened to Bradley – he just needs to read between the Lancasters' lies . . .
Because when the cameras are always rolling, it won't be long until someone cracks.
'Äč———————————
For fans of Murder in the Family and The Club, Clickbait is told through mixed media, from video transcripts to diary entries, capturing a unique and addictive commentary on ruthless ambition and the dark side of fame.
Genre:  Bookclub thriller
Publication Date: 11th April 2024
Publisher: Transworld/Bantam
Pre-order link: https://linktr.ee/clickbaitbook